Gulab Jamun Recipe with khoya|Easy Indian Sweets Recipe|How to make Gulab Jamun
Recipe Description
Gulab Jamun Recipe:Best soft Gulab Jamun recipe with khoya/mawa for all festivals and any occasions. Try this absolutely soft & juicy gulab jamuns seeped in flavored sweet syrup. Imagine these jamuns slowly melting in your mouth which will leave you craving for more. Serve this sweet dish to your family, friends, kids and loved ones and win their hearts. Here is step by step detailed recipe of how to make Gulab Jamun at home with correct cooking technique. These Gulab Jamun are soft, juicy from inside and very rich in taste. Check out our other Sweet Recipes too.Happy cooking!
Ingredients for Recipe
150 grams gits mix gulab jamun powder
50 grams khoya/mava
50 grams paneer
600 grams sugar
1 tsp cardamom powder
1 tsp cardamom seeds
30 grams raisin
2 tbsp sugar balls
Clarified butter/ghee for frying
700ml water for sugar syrup
Recipe Method
Step 1
In a bowl add 150 grams of gits gulab jamun powder.50 grams of khoya/mava & paneer. Mix well while rubbing in your palm. Just make sure everything is mixed well. Add little water at a time & knead medium dough (Do not add much water). Cover it with damp cloth or wet paper towel and keep it aside for 20 minutes.
Step 2
Heat pan on medium heat and add 700 ml water to this add 600 grams of sugar. Stir well and look for sticky consistency (less than one string). For flavoring add cardamom powder and few strands of saffron. Turn off the heat.
Step 3
After 20 minutes knead dough for the final time. Take just 1 tbsp mixture and give flat round shape (like peda) if needed take one drop of water and roll it again in your palm. Poke in the centre: add 1sugar ball, 2 cardamom seeds, 1 raisin and saffron. Close and make smooth round ball. Follow the same method for preparing rest of the gulab jamun balls.
Step 4
For frying these gulab jamuns add enough clarified butter/ ghee in a pan on medium heat. Gently add balls one by one and keep stirring at the same time. Fry until they turn golden brown from all the sides. Take them out in a plate lined with paper towel.
Step 5
Turn on heat on low medium and warm sugar syrup. Add fried gulab jamun in syrup and cover the lid and boil for 5 mins. This is a key step. This way gulab jamuns will be juicy from inside as well. Serve the way you like warm or cold. Enjoy eating!
---
Preparation Time: 18 minutes
Cook Time: 25 minutes
Serving: 18 pieces
---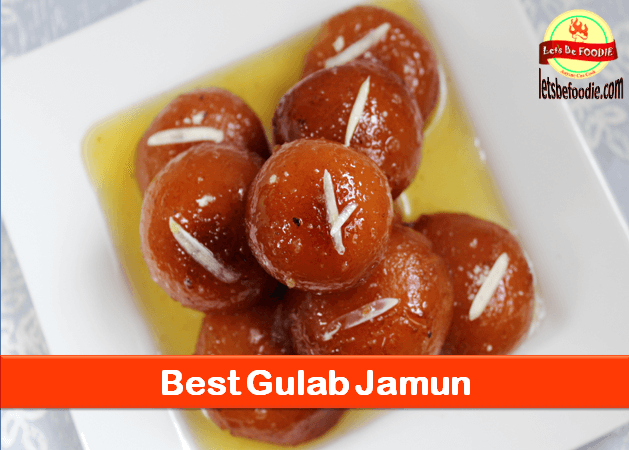 You may also like following recipes from Let's Be Foodie