Paneer Jalfrezi Recipe | Paneer Recipe |Quick Dry Sabzi
Paneer Jalfrezi Recipe Description
Restaurant style paneer jalfrezi, ready in less than 15 minutes. Paneer Jalfrezi is a mildly spiced dry sabzi with dash of sweetness to it. Paneer Jalfrezi is good to pack in lunch box with Indian bread / paratha. It is also ideal for a quick weeknight dinner. You can stuff paneer jalfrezi inside the tortilla wraps or paratha along with some sauces. It is very easy to make, no complicated ingredients required and no messy or tedious method. You can even make it in a jiffy and yet it will be very tasty. This can be served in lunch or dinner as a side dish.
Ingredients for Paneer Jalfrezi Recipe
180 grams paneer (Indian cottage cheese)
1 slit green chili
1 small finely chopped onion
1 medium sliced onion
1 medium finely sliced tomato
1 bell pepper (capsicum) thinly sliced
1 tbsp ginger-garlic paste
1/4 tsp turmeric powder
¼ tsp black pepper powder
1 tsp garam masala
½ tsp kashmiri red chili powder
½ tsp cumin powder
½ tsp coriander powder
½ tsp red chili flakes
1 whole red dry chili
30 grams cilantro (coriander) leaves chopped
Salt to taste
2 tbsp olive oil
2 tbsp tomato sauce
1 tbsp white vinegar
1 ½ inch ginger juliennes
Paneer Jalfrezi Recipe Cooking Method
Step 1
In a medium high heated pan add oil. In hot cumin seeds, red whole dry chili, red chili flakes, finely chopped onion and stir well. After a minute add ginger garlic paste and sauté for a minute. Add sliced onion, sliced bell pepper and stir for 2 minutes.
Step 2
After 2 minutes add turmeric powder, coriander powder, cumin powder and stir well. Add salt to taste, kashmiri red chili power and sliced tomato sauté for a minute. Add silted green chili and juliennes of ginger. Stir for one minute. Add 1 tbsp white vinegar (secret ingredient), black pepper powder and tomato sauce. Mix well everything and cook for just about a minute. Add paneer (cut lengthwise) and well with spices and veggies. Now add garam masala powder, mix well and cook for a minute.
Step 3
Turn off the heat and garnish with chopped cilantro leaves. Hot spicy delicious paneer jalfrezi is ready to serve. Serve with naan, roti or for a quick dinner/ lunch. You can also roll inside paratha or tortilla along with some sauce and make yummy wrap.
---
Paneer Jalfrezi Preparation Time: 10 minutes
Paneer Jalfrezi Cook Time: 15 minutes
Paneer Jalfrezi Serving: 3
---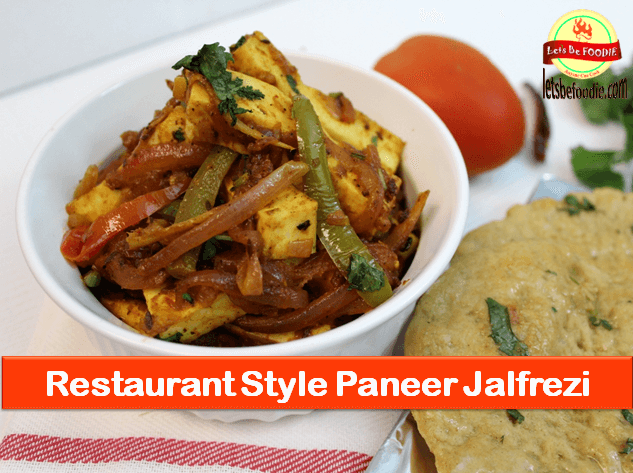 You may also like following recipes from Let's Be Foodie