Sambar Recipe|South Indian Sambhar Recipe|Sambar Recipe for Dosa or idli
Sambar Recipe Description
Sambar recipe: How to make easy and quick vegetarian South Indian Sambhar for dosa or idli from scratch. This sambhar is made with homemade sambar masala which is very easy to make at home. This lentil based vegetable stew is cooked with whole freshly grounded aromatic spices and extra zing comes from tamarind. In this Sambar recipe you can use vegetables of your choice. I've used traditional vegetables in this sambar recipe like pearl onions, drumstick, beans, carrot, eggplant, okra etc. I like Udupi hotel style sambar which is slightly sweet and thick. Sweetness comes from jaggery and luscious texture is what I always crave for. Perfectly blended dal, cooked vegetables with freshly grounded spices makes Sambar irresistible. The aroma from the pan when the curry is slowly simmering is just heavenly. Sambar goes well with Dosa, Uttapams , Medu Vada and Idly.
Ingredients for Sambar Recipe
10 pearl onions
10 grams carrot
1 medium chopped tomato
10 grams okra (bhindi)
12 grams bottle gourd (lauki)
10 grams chopped beans
10 grams eggplant (baingan)
2 slited green chilies
300 ml tamarind juice
1 tsp coriander seeds
½ tsp fenugreek seeds
1 tsp cumin seeds
½ tsp whole black pepper
1/8 tsp asafetida (hing)
Salt to taste
2 ½ tbsp oil
1 tsp cumin powder
4 dried red chilies
½ tsp turmeric powder
1 tbsp black gram lentils (chana dal)
1 tsp mustard seeds
150 grams red split gram (toor dal)
Some curry leaves
1 tbsp brown sugar or jaggery
Sambar Recipe Cooking Method
Step 1
Pressure cook toor dal until dal is completely cooked. It may need up to 3 whistles depends upon quality of dal . Once dal is cooked you can mash it with a ladle or blend it in a blender.
Step 2
Soak 3-4 tamarind in 2 cups of warm water for 20 minutes. Mash tamarind pulp and strain it. Keep it aside.
Step 3
Prepare Sambar Masala: Heat pan on medium heat add 1 tbsp oil. In hot oil add coriander seeds, cumin seeds, fenugreek seeds, whole black pepper, black gram lentil (channa dal), and whole dried red chilies. Stir for a minute. Turn off the stove and let spices cool down a bit. Now grind it in a grinder and sambar masala is ready. Keep it aside.
Step 4
In a medium heated pan or kadai add oil. Once oil is hot add mustard seeds let it splutter. Add asafetida (hing), cumin powder, some curry leaves (I love aroma of curry leaves). Time to add vegetables start with pearly onions. You can also add shallots or regular onion if you don't have pearl onions. Sauté until onion is tender and add slited green chilies. Add turmeric powder and stir well. Add rest of the vegetables: chopped green beans, carrot, okra, bottle gourd, eggplant, drumstick and sauté everything well. Add chopped tomato and salt to taste. Stir again and cover the lid. Let the vegetables get cooked for 15 to 18 minutes. You can stir after every 4 to 5 minutes.
Step 5
Once vegetables are cooked take them out in a plate and keep it aside. In the same pan add tamarind juice and bring it to boil. Once its starts boiling add cooked veggies and stir well. To this add brown sugar or jaggery (important ingredient) and prepared sambar masala from step 3. Stir well and cook for 3-4 minutes. Add pressure cooked and mashed toor dal. Give it a good mix and simmer on low-medium heat for 5 minutes. Very flavorful and luscious sambar is ready to go with Dosa, Idli, Vada or rice. You may also like to check out Instant Rava Idli Recipe.
---
Sambar Preparation Time: 15 minutes
Sambar Cook Time: 30 minutes
Sambar Serving: 5
---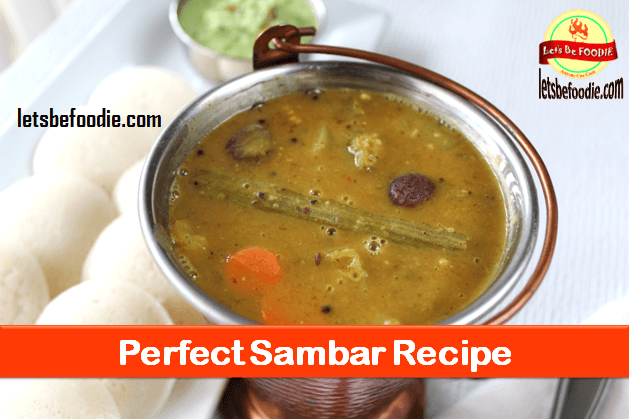 You may also like following recipes from Let's Be Foodie