Cham Cham Recipe|Indian Sweets Recipe|Dessert Recipe
Cham Cham Recipe Description
Cham Cham Recipe: Indian famous sweet, cham cham A.K.A chom chom or chum chum is traditional Bengali sweet which has firm texture from outside and stuffed with delicious cream. Cham cham mithai is made with fresh chenna and pressure cooked in thick sugar syrup. This delectable syrupy sweet is made from small dumplings out of fresh chenna (Indian Cottage Cheese) and made in cylindrical shape. Main ingredients are milk and khoya. Khoya is used for stuffing which makes this mithai rich in taste. This Indian dessert is sinfully rich and delicious that you will be definitely tempted to eat. Cham cham is perfect sweet for any occasion and festival such as holi, diwali etc. Try making cham cham at home with step by step recipe and satisfy your sweet tooth.
Ingredients for Cham Cham Recipe
1 liter whole cow milk
50 grams khoya/mava
1 ¾ cup sugar for syrup
1 ½ tsp fine semolina (sooji)
2 tsp sugar
1 tbsp milk
½ tsp cardamom seeds
2 ½ tbsp white vinegar
4 cups water
2 slitted cherries
Few saffron strands
Cham Cham Recipe Cooking Method
Step 1
Prepare chenna: Heat thick vessel on medium heat and add milk. Keep stirring occasionally so that it doesn't stick to the bottom. Make sure to scrap the sides of vessel as well. Now let the milk come to the boil. Once milk will start boiling turn off the stove and let milk sit for a minute. Now add vinegar little at time slowly stir with light hand while adding vinegar. Leave it for a minute then you will see milk has nicely curdled.
Step 2
Line a sieve with muslin cloth/cheese cloth and drain chenna. Wash chenna well with water so that no smell of vinegar is left in chenna. Pick up cloth and squeeze with light hand. Do not apply much pressure. Make a knot and hang cheese cloth for about 40 minutes.
Step 3
After 40 minutes take out chenna from muslin cloth on clean surface. Knead chenna once using your palm with light pressure. Add semolina (sooji) and 1 tsp sugar. Mix well and knead chenna again for 6 times. Chenna will turn smooth and chenna will release its fat and your hand will be greasy. Roll the chenna dough and divide into nine equal parts. Take each portion in your hand and make smooth round ball and then give cylindrical shape.
Step 4
Make thick sugar syrup: Heat pressure cooker on medium heat and add 4 cups of water and 1 ¾ cup sugar. Stir once and add cardamom seeds. Cover it and bring it boil. In boiling sugar syrup gently drop cham cham one by one and close the lid. Heat should be on medium-high. Wait for 2 whistles and turn off the stove. Let it cool down completely. It will take about an hour
Step 5
Open the lid of pressure cooker after 60 minutes. You will see cham cham are much bigger in size. Take them out with a spatula and transfer it in another vessel. Now pour thick sugar syrup in which you cooked cham cham and refrigerate it for 30 minutes.
Step 6
Prepare khoya stuffing: Crush saffron strands with 1 tsp of sugar in a mortar. Add 1 tbsp milk and mix well. In a bowl take khoya (microwave khoya for 30 seconds and make sure it has paste consistency) add saffron, milk and sugar. Mix well and creamy khoya stuffing is ready.
Step 7
Take out cham cham from the refrigerator. Now take out cham cham from the sugar syrup and place in a plate. Make a slit in cham cham till ¾ inch and stuff creamy khoya. Top with slitted cherry. For cutting and how to stuff cham cham please refer video. Sinfully delicious Indian sweet cham cham is ready. You can refrigerate cham cham for 5-6 days. Why to buy sweets? When you can make such delectable sweet at home.
---
Cham Cham Recipe Preparation Time: 15 minutes
Cham Cham Recipe Cook Time: 25 minutes
Cham Cham Serving: 9 Pieces
---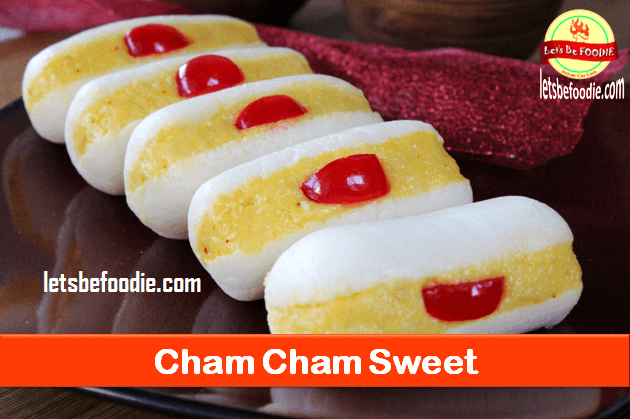 You may also like following recipes from Let's Be Foodie