Gajar Halwa Recipe – Carrot Halva Recipe
Recipe Description
Quick and easy 10 minutes carrot halwa/ gajar halwa recipe which is made with grated carrots, clarified butter, evaporated milk (khoya) etc. This traditional Indian dessert carrot halwa is very rich, creamy and nutty. In my opinion gajar ka halwa (sweet) taste best when made with carrots available in winters. There is nothing better than having a warm blow of carrot halwa especially in winters. Serve this carrot halwa warm or you can also refrigerate carrot halwa and re-heat when you have to eat. Today I am sharing quick and easy microwave method of preparing carrot halwa which can be prepared in no time.
Ingredients for Recipe
6 medium size carrots
100 grams khoya/mava
½ cup / 65 grams sugar
4 crushed green cardamom
50 grams sweetened condense milk
15 grams raisin
15 grams cashew
15 grams almond
15 grams walnuts
15 grams pistachios
2 ½ tbsp clarified butter/ghee
Recipe Method
Step 1
Wash, lightly scrape the outer skin and grate carrots. Add in microwave safe container and pour clarified butter (ghee). Mix well and you will see nice coating of clarified butter all over the grated carrot.
Step 2
Microwave grated carrots for two minutes. Take out from microwave and add sweetened condense milk. Mix well and add sugar (as per your taste). Give it a good mix and microwave again for 2 minutes. Take out container from microwave and add crushed cardamom or cardamom powder. Mix well and add khoya/mava. Mix khoya properly with carrots. Once all the ingredients nicely combined again microwave it for 4 minutes. Take out from microwave and let it cool down.
Step 3
In microwave safe bowl, add sliced almonds, pistachios, cashew and chopped walnuts, raisin. Mix well and add 1 tsp clarified butter (ghee). Mix well and put in microwave for a minute. It gives richer flavor to the nuts.
Step 4
Take out from the microwave and spread all over the carrot halwa/ gajar ka halva. Rich and delicious carrot halwa is ready. Serve it warm or cold the way you like it.
---
Preparation Time: 10 minutes
Cook Time: 10 minutes
Serving: 3-4
---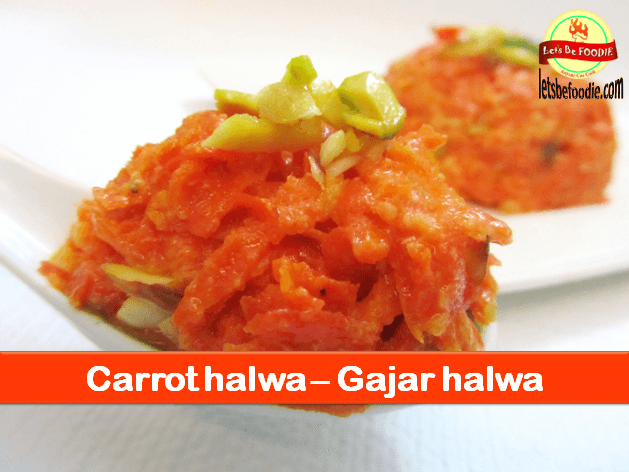 You may also like following recipes from Let's Be Foodie