Sandwich Recipe|Healthy Egg Avocado Breakfast Sandwich Recipe|Breakfast Recipe
Egg Avocado Sandwich Recipe Description
Healthy egg avocado breakfast sandwich recipe for a perfect breakfast. Want to start your day with something yummy and healthy but absolutely light. Here you go with the EGG AVOCADO SANDWICH. Egg and avocado toast recipe is simple to make and so delicious. The smooth avocado apart from being loaded with heart it has healthy monounsaturated fatty acids, provides adequate potassium, nutrients and fiber to the body without any cholesterol. What else we need for a healthy diet. Now let's jump start to add a twist of fun and flavor to our new recipe.
Ingredients for Egg Avocado Sandwich Recipe
3 egg whites
2 medium avocados
1 small finely chopped onion
1 small finely chopped bell pepper
25 grams cilantro (coriander) leaves
3 wheat bread slices
¼ tsp cumin powder
1/8 tsp red chili powder
½ lime
Salt to taste
1 tsp olive oil
1 grated garlic
¼ tsp black pepper powder
Egg Avocado Sandwich Cooking Method
Step 1
Peel 2 avocados and mash with fork, add 1 ½ tbsp finely chopped tomato, 1 tbsp finely chopped onion, some fresh chopped cilantro leaves (coriander leaves), 1 grated garlic clove, ½ lime juice and salt to taste. Mix well guacamole spread is ready.
Step 2
Take any bread slice of your choice, make a rectangle hole in the centre leaving ½ inch from each side. Take out the rectangle part and roll as thin as possible.
Step 3
In a bowl add egg white of 3 eggs, 1 tbsp finely chopped red onion, 1 tbsp finely chopped tomato, 1 tbsp finely chopped bell pepper (capsicum), some chopped cilantro leaves, few dashes of black pepper powder, ¼ tsp red chili powder, salt to taste. Now whisk really well and keep it aside.
Step 4
Heat pan on low medium heat. Add few drops of olive oil once oil is hot, place bread with hole from step 2. Fill completely the bread hole with egg mixture and stir gently. Cover egg mixture with rolled bread slice. Sprinkle cumin powder, some black pepper powder and flip. Cook each side for 4 mins. Take out in a plate cut it into half (in triangle shape), spread guacamole on one part and place another half on top. Healthy egg in the hole toast is ready to be served.
---
Egg Avocado Sandwich Preparation Time:
10 minutes
Egg Avocado Sandwich Cook Time:
10 minutes
Egg Avocado Sandwich Serving:
3 Sandwiches
---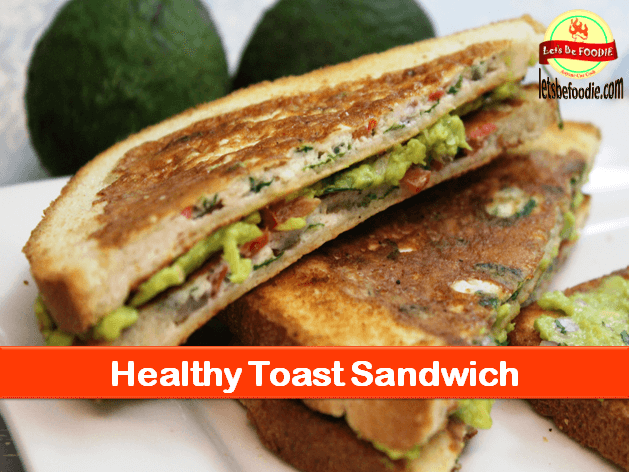 You may also like following recipes from Let's Be Foodie