Vegetarian Sandwich Recipe|Breakfast Recipe|Toast Sandwich
Vegetarian Breakfast Sandwich Recipe Description
Veg toast sandwich recipe is super healthy, super delicious; NO-OIL recipe takes just 10 minutes of your time and gives your kids the most nutritious snack/breakfast. This healthy veggie sandwich is great for breakfast or brunch. The toothsome combination of cilantro ginger spread and mashed potato tingle your taste buds leaving you wanting for more. You can also carry this vegetarian sandwich for your picnic or can be given in kid's tiffin box. Another quick and easy recipe for mother's on the run. So why wait! Let's get started on making vegetarian sandwich recipe.
Ingredients for Vegetarian Breakfast Sandwich Recipe
8 wheat bread slices
1 small chopped onion
¼ chopped green bell pepper (capsicum)
120 grams paneer (Indian cottage cheese)
50 grams cilantro (coriander) leaves
2 medium boiled potatoes
½ cup boiled green peas
1 small green chili
1 tsp chaat masala
1/8 tsp black pepper powder
¼ tsp lemon juice
½ inch ginger
¼ cup mozzarella cheese (optional)
1 big clove of garlic
Salt to taste
Vegetarian Breakfast Sandwich Recipe Cooking Method
Step 1
Take 40-50 grams of fresh cilantro leaves (coriander leaves/dhaniya), 1 clove of garlic, 1 small green chili chopped, ½ inch chopped ginger. Now grind everything in a grinder and make paste. Add ¼ tsp lemon juice and pinch of salt. Mix well and keep paste aside.
Step 2
In a big bowl, add 1 small finely chopped onion, ¼ chopped bell pepper (capsicum), ½ cup boiled and mashed green peas, 2 medium boiled and roughly mashed potatoes, 1 cup (130g) finely grated cottage cheese (paneer), add ¼ cup mozzarella cheese (optional) if you want you can skip adding cheese, add 1 tsp chaat masala, 1/8 tsp black pepper powder, salt to taste but not much because cheese also contains salt, 2 ½ tbsp prepared paste (cilantro, garlic, ginger, chili paste). Mix everything thoroughly. Stuffing is ready.
Step 3
Take any bread slice of your choice, add 3 tbsp stuffing and spread evenly on the bread now cover stuffed bread slice with another slice of bread.
Step 4
Heat tawa/pan on medium heat, you can also toast sandwich in sandwich maker. Once pan is hot place sandwich in the centre w/o butter. Gently press sandwich with spatula and leave it on pan/tawa for 2 minutes, flip after two minutes and toast sandwich for another two minutes. Sandwich is ready and crispy from both the sides. Cut it into 2 pieces diagonally (making a triangle). Serve immediately crispy sandwich with your favorite sauce/ketchup.
---
Veg Breakfast Sandwich Preparation Time: 15 minutes
Veg Breakfast Sandwich Cook Time: 4 minutes for each
Veg Breakfast Sandwich Serving: 4
---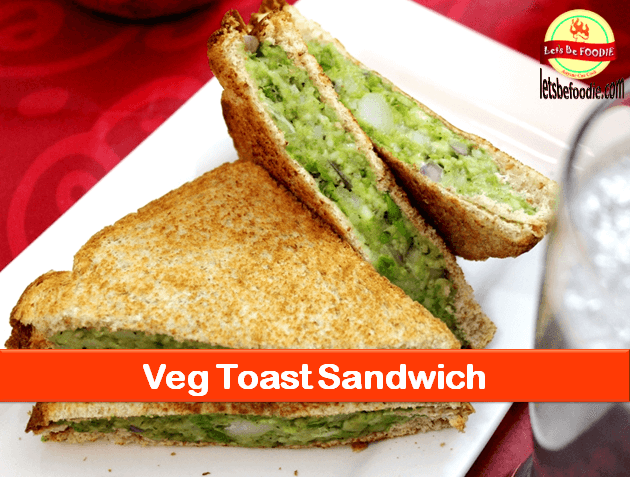 You may also like following recipes from Let's Be Foodie