Baked Jalapeno Poppers Recipe
Recipe Description
Jalapeno poppers are easy and yummy treat for parties. These jalapeno poppers are perfect party pleasures, which is easy and fun to make. It's filled with cream cheese, cheddar cheese and wrapped with veggie bacon (no meat). Spicy chilies and crispy veggie bacon makes it irresistible. Even you can make them ahead and bake when you want to serve. No one can resist these cute little jalapeno poppers. Kids and adults both go nuts for it. You can serve these jalapeno poppers as starter / appetizer or as an evening snack.
Ingredients for Recipe
5 jalapeno peppers
80 grams shredded cheddar cheese
100 grams cream cheese
15 veggie bacon strips
3 black olives
½ tsp olive oil
Recipe Method
Step 1
Wash and cut head of jalapeno. Cut it into half (lengthwise) and de-seed all the jalapenos. Put cream cheese inside the de-seeded jalapenos. Now add 1 tbsp cheddar cheese in each jalapeno and tap a bit so that it sticks to the cream.
Step 2
Add some chopped olives and wrap with veggie bacon strips. Where ever it ends insert a toothpick. It will keep veggie bacon wrapper intact. In case you want to make "mummy style" jalapeno poppers. Scroll up and please refer video for wrapping technique. You can get veggie bacon strips in target.
Step 3
Grease baking tray with oil. Add place prepared jalapeno poppers in baking tray. Bake them for 20 minutes on 350F/ 170C. Centre your baking tray for even heating.
Step 4
Take out baking tray after 20 minutes. Remove toothpicks and serve warm.
---
Preparation Time: 20 minutes
Cook Time: 20 minutes
Serving: 3
---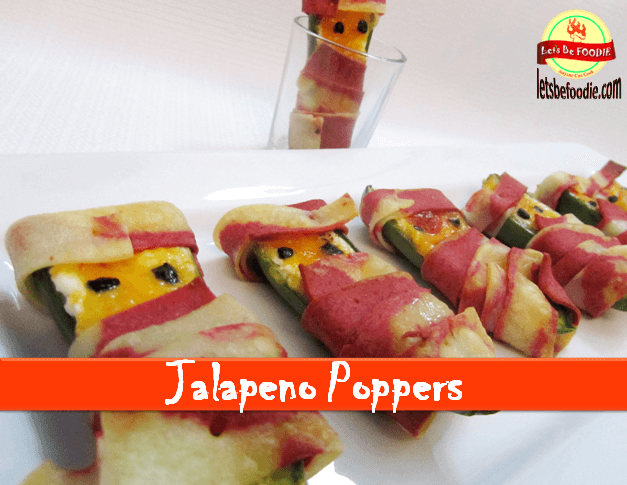 You may also like following recipes from Let's Be Foodie