Paneer Butter Masala Recipe|Paneer Makhani Curry with Nuts
Recipe Description
Paneer butter masala recipe: Paneer butter masala or paneer makhani is a popular vegetarian side dish. Paneer butter masala the name itself makes our mouth water. If you eat it once, the taste continues to linger and tickle your taste buds each time you think of it. This recipe is enriched with the goodness of cottage cheese (paneer) and flavored with subtle spices. This authentic Indian dish is simmered in a creamy gravy/curry that's melts like butter. This paneer butter masala dish has extra richness of various nuts which boosts up nutritional value. Paneer butter masala is served with naan, roti and many types of rice varieties. You can enjoy this curry in lunch or dinner. So why wait. Let's go ahead and learn how to make paneer butter masala in restaurant style at home.
Ingredients for Recipe
300g paneer (Indian cottage cheese)
2 medium chopped tomatoes
1 ½tbsp crushed ginger-garlic
3 tbsp unsalted butter
2 tbsp cashew
2 tbsp almonds
2 tbsp watermelon seeds
2 tbsp pumpkin seeds
1 tbsp poppy seeds
½ tsp turmeric powder
1 tsp cumin powder
1 tsp kashmiri red chili
½ tsp chaat masala
Salt to taste
1 tsp coriander powder
5 tsp tomato sauce
½ cup heavy cream
½ tbsp garam masala
1 tbsp dried fenugreek leaves
Water
Recipe Method
Step 1
Heat pan on medium heat and add 2 tbsp unsalted butter. In melted butter, add crushed ginger and garlic. Stir for few seconds and add dried fenugreek leaves. Sauté for 30 seconds and add ripped chopped tomatoes and cook until tomatoes soften.
Step 2
In a bowl add almonds, cashew, pumpkin seeds, watermelon seeds and poppy seeds. These are the secret ingredients which will make paneer butter masala rich in taste. Make thick paste and keep it aside.
Step 3
Add prepared paste in tomatoes and cook for 6 minutes or until tomatoes soften. Turn off the stove. Make purée in blender and strain it for smooth consistency.
Step 4
In a bowl add turmeric powder, coriander powder, cumin powder, Kashmiri red chili powder and keep it aside.
Step 5
Heat same pan on medium and add 1 tbsp butter. In melted butter, add spices and stir well for a minute. Now add tomato and nuts purée. Sauté for few seconds, add garam masala and salt to taste. In case if you're using salted butter adjust salt as needed. Keep stirring constantly until butter starts separating. Add tomato ketchup and stir well. Add heavy cream and give it a good mix. Add paneer cubes and coat well. Cook for a minute and add 120ml water and stir well. You can adjust more or less water as per your preference. Let it simmer on low-medium heat for 5 minutes. Delicious and flavorful paneer butter masala is ready. I love this paneer butter masala with naan. I would love to know what your favorite with this curry. Please comment in comment section. Enjoy, you just made 5***** style paneer butter masala at home.
---
Preparation Time: 15 minutes
Cook Time: 30 minutes
Serving: 3-4
---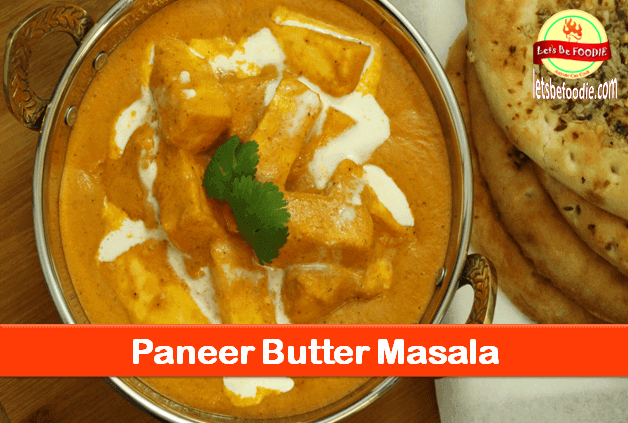 You may also like following recipes from Let's Be Foodie