Chur Chur Paratha Recipe|Paratha Recipe|Paratha with Paneer Stuffing
Chur Chur Paratha Recipe Description
Chur chur stuffed paratha is very crispy, flaky, layered bread which is easy to make at home. This paratha is popular on the streets of Delhi (India) and restaurants. Chur chur paratha is made with whole wheat flour and stuffed with crumbled paneer, potato etc. Chur chur Indian vegetarian paneer paratha recipe is quick and easy to make at home. I remember eating this paratha for the first time in Delhi restaurant "Not Just Paranthas" and loved the crispness of chur chur paratha. Definitely it is worth visiting. All in one paratha, crispy, layered and stuffed. Try making this paratha at home with step by step recipe of chur chur paratha. You can serve this paratha in breakfast or lunch.
Ingredients for Chur Chur Paratha Recipe
2 ½ cups / 320 grams wheat flour
¼ cup rice flour
1 tbsp clarified butter
4 tbsp clarified butter for parathas
Water
Some wheat flour for dusting
Salt to taste
80 grams crumbled paneer(Indian cottage cheese)
1 boiled & mashed potato
1 small finely chopped onion
25 grams cilantro leaves
1 inch ginger grated
¼ tsp red chili powder
1 tsp chaat masala
1 green chili finely chopped
¼ tsp black pepper powder
Chur Chur Paratha Recipe Cooking Method
Step 1
Prepare dough: In a mixing bowl add 2 ½ cups (320 grams) of wheat flour, ¼ cup rice flour and salt to taste. Mix all the dry ingredients and then add 1 tbsp clarified butter (ghee) again mix well thoroughly. Now add 1/2 cup of water in the flour, mix well and add 1/2 more cup of water and knead medium dough (not very stiff or soft). Keep dough aside for 20 minutes.
Step 2
Prepare stuffing: In a bowl add 80 grams of crumbled paneer (Indian cottage cheese), 1 boiled and mashed potato, 1 small finely chopped onion, 1 inch grated ginger, 1 small green chili finely chopped, 25 grams of finely chopped cilantro (coriander) leaves, 1 tsp chaat masala, ¼ tsp red chili powder, salt to taste. Mix everything well and stuffing is ready.
Step 3
After 20 minutes, check dough and give final knead. Your dough will be smooth and soft. Take a medium size ball, using dry wheat flour roll ball into 6 inch diameter circle. Apply clarified butter all over the circle and start making small pleat-like folds, about ½ inch wide, starting from one side of the circle till the other edge. Roll it and bring one edge towards the other edge in a circular manner. Gently press a bit and make a well. Now add stuffing in the well gather all the edges and seal it completely. Roll it again into a flat circle around 6 to 7 inch diameter.
Step 4
Heat pan on medium heat. Place paratha on the pan, once you see bubbles flip paratha on other side. Apply clarified butter on both the sides, gently press paratha with spatula to make crispy and it also helps in even cooking. Take out in a paper towel and crush it your palms. You will see multiple layers will come up. Your crispy, flaky, layered, stuffed paratha is ready to be served. Serve this paratha with daal makhani, cilantro chutney and yogurt.
---
Chur Chur Paratha Preparation Time:
20 minutes
Chur Chur Paratha Cook Time:
4 minutes/paratha
Chur Chur Paratha Serving:
10 parathas
---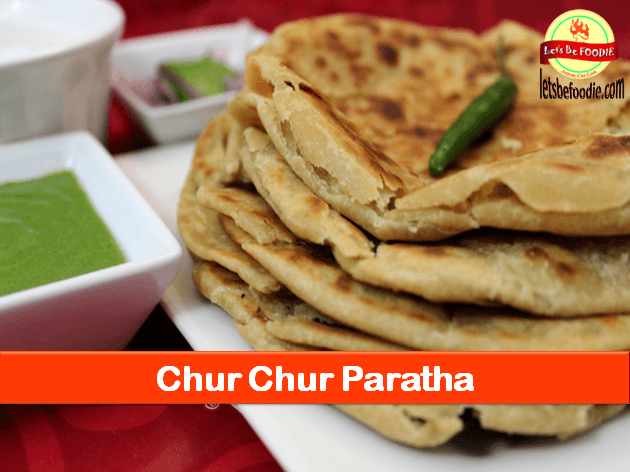 You may also like following recipes from Let's Be Foodie