Khasta Moong Dal Kachori Recipe
Recipe Description
Moong dal khasta kachori is perfect snack to enjoy with evening tea. These kachoris are stuffed with moong dal, fried onion and filled with flavorful Indian spices. These kachoris are famous breakfast in UP (Northern state of India) and always served with spicy aloo sabji. Prefect crispy, flaky and puffed up just like puff pastry khasta moong dal kachori is ideal breakfast when you want to make something special. These kachoris are irresistible and can be enjoyed as a tea time snack. Flavors will just burst in your mouth with every bite. To sum up, these kachoris are to die for and a must try recipe for all kachori lovers!
Ingredients for Recipe
250 grams all purpose flour (maida)
180 grams moong dal
1 tsp cumin seeds
1 tsp carom seeds (ajwain)
1 tsp nigella seeds (kalongi)
1 tbsp garam masala
3 tbsp clarified butter (ghee)
1 tbsp broken coriander seeds
1 tbsp coriander powder
1 tbsp large onion chopped in small cubes
1 tsp kashmiri red chili powder
1 tsp fennel powder
¼ tsp asafetida (hing)
2 finely chopped green chilies
1 tsp ginger powder
Salt to taste
Oil for frying
600 ml water
Recipe Method
Step 1
Prepare kachori dough: Add 2 cups of all purpose flour (maida) in a bowl add 1 tbsp clarified butter (ghee) little bit of salt and knead medium dough. Add little water at a time to knead the dough. Do NOT over knead dough. Cover the dough and let it sit for 20 minutes.
Step 2
Prepare stuffing: Soak 180 grams moong dal for 2 hrs. Rinse it well and make course paste (leave few whole moong dal). Cut 1 large onion in small cubes and deep fry them on medium heat until they turn light golden brown. In a pan heat 2 to 3 tbsp oil on medium heat, in hot oil add 1 tsp cumin seeds, 1 tsp carom seeds, 1 tsp nigella seeds, 1 tbsp broken coriander seeds, add some asafetida (hing) stir for 30 seeds and add 2 green chili finely chopped stir well. Add 1 tbsp coriander powder, 1 tsp fennel powder, 1 tsp ginger powder sauté all the spices well. Add course moong dal paste and keep stirring on low medium heat until it dries out. After few minutes add 1 tsp kasmiri red chili powder, 1 tsp mango powder, 1 tbsp garam masala and salt to taste. Again mix well and keep stirring for few more minutes. Add fried onion and sauté well for 3 minutes. Turn off the heat and let mixture cool down completely. Stuffing is ready.
Step 3
Make kachori dumpling: In a bowl add 2 tbsp clarified butter (ghee), 2 tbsp all purpose flour (maida) mix them well and keep it aside. Knead dough for the final time. Take medium size ball. Sprinkle all purpose flour on clean surface and roll it into 8 inch diameter circle. Apply prepared paste and spread it evenly all over. Fold it from one side, apply paste and then fold from other side as well. Fold it from right side and from left side (please refer video for detailed folding technique). Keep it in a container covered and prepare rest of them following same process. Take one folded sheet and roll it again. Sprinkle some all purpose flour and tap rolled sheet with your hand to increase the size of sheet. Now roll it into square shape. Roll all the edges thinner than the centre. Add 3 tbsp stuffing in the centre. Join 2 diagonal corners first and pinch at the top. Take third corner, pinch it at the top and seal both the edges completely. Similarly do it for the 4th corner and seal the edges properly. Now hold two diagonal corners and pinch it together. Take remaining 2 corners and pinch them all together. Give it a twist and press it down. Prepare rest of the kachoris dumpling in the same way.
Step 4
Fry kachoris: Heat oil on low medium heat. In hot oil add kachoris one by one. Gently flip them after few minutes. Flip it from other side as well and fry kachoris on low medium heat until they turn golden brown from all the sides. Take out in plate and serve them with spicy potato curry (the way we get in chandi chowk) or enjoy as it is with tea. You can keep these kachoris in air tight container and it's good to go for few days. These kachoris goes really well with aloo sabzi.
---
Preparation Time: 15 minutes
Cook Time: 30 minutes
Serving: 4-5
---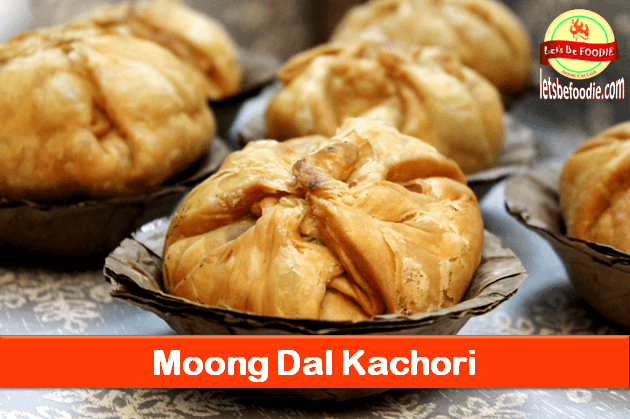 You may also like following recipes from Let's Be Foodie
Leave Comment(s) or Suggestion(s)