Indian Sweet Jalebi Recipe
Recipe Description
Jalebi recipe with step by step instructions. This Jalebi recipe is instant and easy to make at home. Jalebi is deep fried batter soaked in thick sweet sugar syrup. This jalebi is crispy from out and juicy from inside. This jalebi sweet is a traditional dish that is widely eaten in India, Pakistan and many Middle Eastern countries. One of the best dessert which can be made on any occasion like wedding, birthday or festivals like diwali, hoil, dusshera etc. This Jalebi sweet dish is also known as Zulbia, Jilapi, or Jilawii in other parts of world. Making Jalebi is an art and you can only master this art by making beautiful spiral shaped jalebis. The consistency of sugar syrup also plays a vital role in making crispy and juicy jalebi. Learn how to make quick & easy jalebi with step by step instruction and correct cooking technique. Serve jalebi dessert after any meal. You can serve it hot or warm. In fact, in Northern part of India people relish jalebis in their breakfast with moong dal kachoris and aloo ki sabzi. This is the awesome combination for any foodie.
Ingredients for Recipe
½ cup/ 70 grams all purpose flour (maida)
350 grams khoya/ mava
1 tsp yogurt
1 tbsp cornstarch
3 green cardamoms
1 tsp olive oil
Few strands of saffron
½ tsp rapid yeast
¼ tsp roohafza
¾ cup sugar
Vegetable oil for frying
2 tbsp clarified butter (ghee)
Water
Recipe Method
Step 1
In a cup, add 8 tbsp lukewarm. Now add ½ tsp dry active yeast, and add 1 tbsp sugar. Mix well and leave it for 7-8 minutes.
Step 2
In a bowl, add ½ cup (65g) all purpose flour (maida), 1 tbsp cornstarch or corn flour, 1/8 tsp turmeric powder (for color), add 1 tsp olive oil or any vegetable oil, mix well and then add yeast mixture. Again give it a good mix and make a lump free batter. Add ½ tablespoon yogurt (curd) mix well and add ¼ tsp roohafza, mix it and make sure batter is not very thick or thin. Now leave batter for 45 minutes for fermentation.
Step 3
Heat pan on medium heat, add 300ml water and ¾ cup sugar (100g), stir it and once it starts boiling add crushed green cardamom and few saffron strands. Stir it again. Make your sugar syrup little less than 1 string consistency.
Step 4
Mix batter well after 45 minutes (do not add water) and pour in any plastic bottle which has a nozzle in it.
Step 5
Heat oil in a pan on little less than medium heat for frying jalebis and add 2 tbsp clarified butter (ghee).
Step 6
To make jalebis start with bigger circle and move in spiral motion towards the centre. Watch video for more details.
Step 7
Fry until golden brown and dip jalebis in sugar syrup from both the sides for altogether 15-20 seconds. Keep sugar syrup on low heat. Crispy, juicy instant jalebi is ready to be served.
---
Preparation Time: 10 minutes
Cook Time: 30 minutes
Serving: 16 pieces
---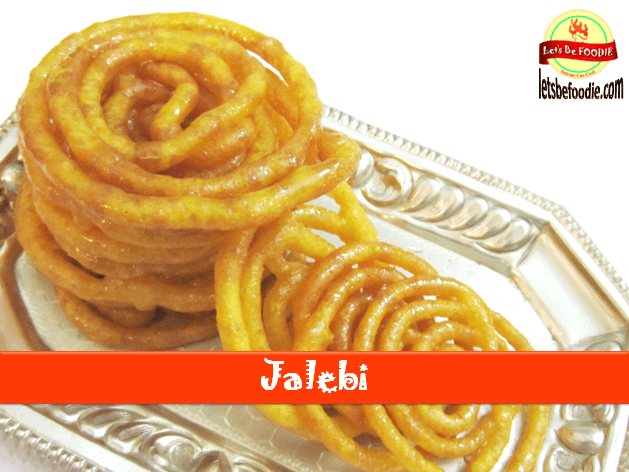 You may also like following recipes from Let's Be Foodie
Leave Comment(s) or Suggestion(s)