Vada Pav Recipe
Recipe Description
Vada Pav is staple fast food of Maharashta (India). Vada is potato dumplings with various spices, coated in gram flour batter and deep fried. Pav is soft bread. Vada Pao can be enjoyed as breakfast, or as an evening snack with hot cup of tea. This popular Mumbai street food Vada Pav is served with spicy-tangy dry coconut, peanut chutney, tamarind chutney and cilantro chutney. These chutneys are very distinctive and full of flavors. Vada pav is Indian vegetarian fast food which you can grab and go anytime. Here is detailed vada pav recipe which depicts a typical road side vada pav taste.
Ingredients for Recipe
2 medium boiled potatoes
¾ cup / 80grams chickpea flour (besan)
1 tsp split urad dal
4-5 curry leaves
½ tsp mustard seeds
1 tsp crushed green chili
¼ tsp asafetida (hing)
1 tsp ginger paste
¾ tsp turmeric powder
¼ tsp baking soda
30 grams cilantro leaves
Salt to taste
Oil for fry
Water
Recipe Method
Step 1
Heat pan on medium heat, add 1 ½ tbsp oil. In hot oil add mustard seeds, asafetida, curry leaves, urad dal, crushed green chili, turmeric powder and quickly stir. Add roughly hand mashed potatoes and mix well. Add salt to taste and cilantro leaves. Give it a good mix and stuffing is ready. Turn off the heat. Let the mixture cool down completely.
Step 2
In another bowl sieve besan. Add turmeric powder, salt to taste, baking soda and mix all dry ingredients. Now add little water at time and make smooth pouring consistency batter not too thick or too runny. Batter is ready. Keep it aside.
Step 3
Once stuffing will cool down completely make potato balls. Take 2 tbsp potato mixture and make round ball. Repeat the process for rest of the potato balls.
Step 4
Heat oil on medium-high heat. Dip potato ball in the batter and coat evenly from all the sides. Gently drop potato balls and deep fry until golden brown and crisp from all the sides. Take it out on a paper towel. Fried batata vadas are ready.
Step 5
Let's start assembling vada pav. First cut pav into half keeping the end part attached. Now apply date & tamarind chutney at the base. Add coconut, peanut dry chutney and sprinkle some sev. Drizzle green chutney on other side of the pav. Place batata vada and delicious vada pav is ready. Serve vada pav with fried and salted green chilies.
---
Preparation Time: 15 minutes
Cook Time: 25 minutes
Serving: 3
---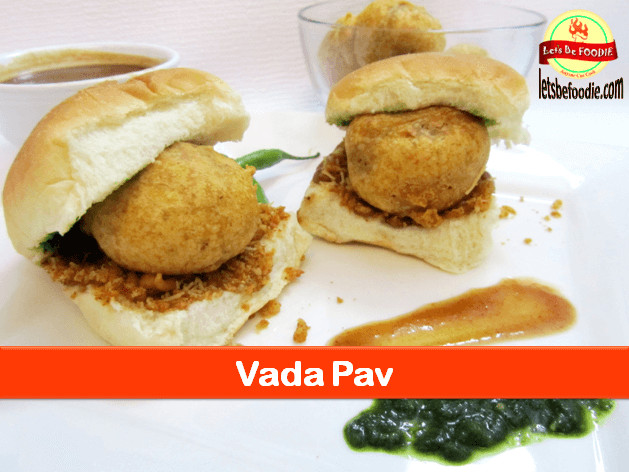 You may also like following recipes from Let's Be Foodie