Bean soup recipe | Instant pot recipes | Instant pot soup | Healthy soup recipe
Bean Soup Recipe Description
Beans soup recipe with chili cooked in Instant Pot is an excellent healthy choice, no-fuss satisfying meal for dinner or lunch. This healthy soup is low crab, high in protein and best for winter evening. This quick vegetable & beans soup recipe is low fat, low calorie and ideal for weight loss. This healthy wholesome soup is made with red kidney beans, black beans, spices, black eyed peas etc. Beans chili soup is super nutritious and nothing can taste better than a hearty, healthy soup in winter. It is also a great recipe for fussy kids who doesn't like to eat much veggies and beans. Give healthy additions to your weeknight dinner routine with this quick and easy wholesome soup. Learn how to make chilli bean soup with no corn starch which makes this recipe even healthier. Also you can serve this soup hot as appetizer before lunch/dinner or any meal.
Ingredients for Bean Soup Recipe
50 grams boiled pinto beans
50 grams red kidney beans
50 grams black eyed peas
50 grams black beans
½ green bell pepper (capsicum) chopped
½ orange bell pepper (capsicum) chopped
1 tsp sugar
¼ tsp black pepper powder
½ tsp cumin powder
½ tsp paprika
1 brown chopped onion
1 chopped jalapeno
2tbsp olive oil
1 tbsp tomato ketchup
50 grams chopped cilantro (coriander) leaves
1 cup diced tomato
Pinch of dried oregano
Pinch of dried basil
1 can/ 14 oz vegetable broth
Salt to taste
Bean Soup Recipe Method
Step 1
In medium heated pan add olive oil. In hot oil add chopped onion and sauté for 30 seconds. Now add chopped bell pepper. Stir well, and let this cook for 3 minutes. Until bell pepper and onion turn tender. Add chopped garlic and sauté for a minute.
Step 2
Now add diced tomato and give it a good stir after stirring well add chopped and de seeded jalapeno. Mix and add tomato ketchup. Add boiled beans here goes kidney beans, black beans, pinto beans and black eyed peas. Mix everything well. Add paprika, black pepper powder, cumin powder, salt to taste and sugar. Give it a good stir and add vegetable broth/ stock (you can also use water instead of vegetable broth). Add few dashes of oregano, pinch of dried basil, and chopped cilantro leaves. Cover it and let it simmer on low heat for 25 minutes.
Step 3
Turn off heat after 25 minutes and healthy, wholesome soup is ready. Take out soup in a bowl and serve hot.
---
Bean Soup Preparation Time: 15 minutes
Bean Soup Cook Time: 35 minutes
Bean Soup Serving: 3-4
---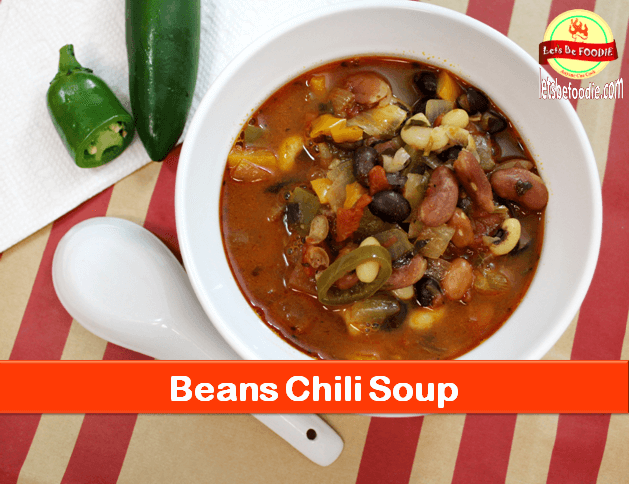 You may also like following recipes from Let's Be Foodie