Sweet tomato chutney | Tomato Chutney Recipe | Indian chutney recipe
Tomato Chutney Recipe Description
Sweet tomato chutney which is full of flavor. This Indian tomato chutney with dry fruits goes well with stuffed parathas/Indian bread and snacks. This sweet tomato chutney is made with ripped tomatoes and has a flavor of cardamom powder. Easy to make and can be refrigerated for 2-3 weeks. Transfer this sweet tomato chutney in a jar. No preservative required in this chutney recipe. This chutney recipe has been passed out from my granny to my mom. This tomato chutney can be used as an accompaniment with variety of dishes. All in all, it is a must try recipe.
Ingredients for Tomato Chutney Recipe
6 medium ripped tomatoes
2 dried red chili
2 tbsp clarified butter (ghee)
2 bay leaves
½ tsp fennel seeds (sauf)
½ tsp fenugreek seeds (methi)
30 raisins
10 -12 chopped cashew
½ tsp mustard seeds
½ tsp carom seeds (ajwain)
½ tsp nigella seeds (kalnoji)
¾ cup sugar/90 grams sugar
½ tbsp cardamom powder
Tomato Chutney Recipe Method
Step 1
Make cross slit on the top of tomato and repeat the process for rest of the tomatoes. Then pressure cook tomatoes for 15 mins with 70ml of water.
Step 2
Peel skin of the tomatoes and mash it with a masher. Don't make it like a puree keep some chunks in it.
Step 3
In medium heated pan add 2 tbsp clarified butter/ghee. Add mustard seeds, carom seeds, nigella seeds, fennel seeds, fenugreek seeds, red dry chilies, bay leaves and stir for 10 seconds. Add mashed tomatoes. Sauté for 5 minutes. Add water in which you boiled tomatoes cook for another 5 minutes. Add ¾ cup of sugar and cook until it thickens (It will take 15 minutes). Add chopped cashews and raisin. Stir again and let it simmer for 4 more minutes.
Step 4
Turn off the heat and add ½ tbsp cardamom powder. Give it a good mix. Mouth watering delicious chutney is ready to be served. This chutney can be refrigerated for 2- 3 weeks. Best to serve with stuffed parathas.
---
Tomato Chutney Preparation Time: 15 minutes
Tomato Chutney Cook Time: 20 minutes
Tomato Chutney Serving: 18
---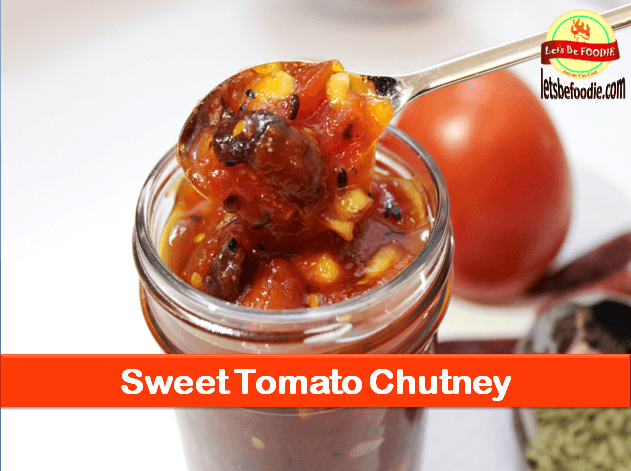 You may also like following recipes from Let's Be Foodie