Veg Kabuli Pulao Recipe|Kabuli Pulao Recipe|Kabuli Rice Recipe with Soya
Kabuli Pulao Recipe Description
Veg Pulao/pilaf/ pulav are the best colorful dish for parties to impress guests. This kabuli pulao is made with nutritious soya chunks/soya beans teaming with Indian spices and topped with caramelized carrot and raisins. One of the most loved pulao in my home, a rich dish teeming with Indian spices. Every mouthful bite will delight your senses. Vegetarian kabuli pulao is a must try utterly delicious recipe of rice. Kids relish as well. The name "Kabuli Pulao" is famous cuisine from Kabul, Afghanistan where Kabuli pulao/pilaf made with lamb. Being a vegetarian, soya replaced lamb and tadaaaaaa....vegetarian version is ready with meaty texture. Try making this flavorful veg version of kabuli pulav at home.
Ingredients for Kabuli Pulao Recipe
1 ½ (200g) cup basmati rice
2 medium carrots (juliennes)
¼ cup raisin
4 tbsp sugar
2 tsp garam masala
1 brown onion chopped
3 tbsp olive oil
8 almonds sliced
1 cinnamon stick
8 sliced pistachios
1 cup (130g) soya nuggets
¼ tsp cinnamon powder
Salt to taste
1 ½ tbsp clarified butter (ghee)
1 black cardamom
1 green cardamom
Kabuli Pulao Recipe Cooking Method
Step 1
Soak basmati rice for 3 hours. In boiling water add ½ tsp salt and basmati rice. Stir and cover the lid. Cook rice 60%. When rice is par cooked, drain and keep it aside.
Step 2
Soak soya nuggets in hot water for 30 minutes. Squeeze out the water and keep soya nuggets aside. Keep soya water reserved.
Step 3
In medium heated pan add 2 tbsp olive oil. In hot oil add cinnamon stick, black cardamom & green cardamom. After 30 seconds, add chopped brown onion, sauté and cook until its golden brown.
Step 4
Add soya nuggets, give it a good stir and add salt to taste. Mix well. Now add water in which you soaked soya nuggets. Mix well everything. Cover it and let it simmer on low-medium heat for 15 minutes.
Step 5
Using strainer, strain soya nuggets and onion. Reserve soya nuggets stock.
Step 6
In a pan add 3 tbsp regular sugar, let it melt and then add reserved soya stock. Add 1 tsp garam masala powder, 1/8 tsp cinnamon powder, little bit of salt. Stir well and turn off the heat.
Step 7
In another pan add 1 tsp oil to this add juliennes of carrot. Stir and cook for a minute. Add 1 tbsp sugar sauté & cook for 3 minutes. Add black raisins and cook for another minute. Turn off the heat and take out in a plate.
Step 8
In a wide pan, add rice pour stock all over the rice. Sprinkle garam masala powder and little bit of cinnamon powder. Now pour hot melted clarified butter (ghee). Make holes in the rice with back of spatula. This will make rice get cooked evenly.
Step 9
Now add soya nuggets on one side of rice. Place carrots raisins on other side. Cover with cloth or muslin cloth. Put on the lid and make a knot on the cloth. Let this steam for about 10 minutes.
Step 10
After 10 minutes, open the lid. And your kabuli pulao is ready to be served. Take out in a plate. Add first layer of rice next soya nuggets. Some more rice over it now add carrot & raisins. Garnish with sliced almonds and pistachios. Classic kabuli pulao is all ready to enjoy.
---
Kabuli Pulao Preparation Time: 15 minutes
Kabuli Pulao Cook Time: 30 minutes
Kabuli Pulao Serving: 4
---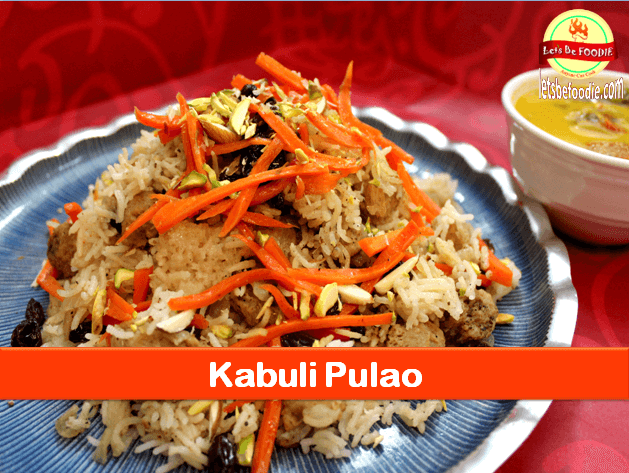 You may also like following recipes from Let's Be Foodie