Tawa Pulao Recipe|Indian Pulao Recipe|Mumbai Street Food
Recipe Description
Tawa pulao recipe: Learn how to make easy and quick vegetarian Indian tawa pulao with leftover rice. This Indian Tawa pulao is a famous Mumbai street food which is hot and spicy. Tawa pulao AKA pav bhaji pulao can be made easily at home in no time. Tawa pulao is a wholesome meal and can be prepared for lunch or dinner. As the name suggest, this tawa pulao is made on iron griddle/pan. Tawa pulao is delicious quick treat which is made with cooked rice or leftover rice and tossed with veggies like tomatoes, potatoes, peas, cabbage, bell pepper and spices. This Indian street style tawa pulao is very flavorful and filling too. This tawa pulao is perfect for lunch box and also satisfy your craving for hot and spicy food. Here is step by step recipe of street style tawa pulao from the streets of Mumbai (India).
Ingredients for Recipe
4 medium tomatoes
2 boiled potatoes
1 finely chopped onion
¾ cup green peas
1 chopped bell pepper/capsicum
1 cup chopped cabbage
½ tsp kashmiri red chili
40 grams cilantro leaves/coriander leaves
1 inch ginger
3 cloves of garlic
Soaked 2 dried red chilies
2 ½ cups cooked rice
2 tbsp pav bhaji masala
Salt to taste
2 tbsp butter
Recipe Method
Step 1
Soak 2 red dry chilies in warm water for 10 minutes. If you wish you can remove seeds before soaking. Make puree of soaked dry red chili with ginger & garlic.
Step 2
Heat pan or tawa on medium heat add 1 tbsp butter. Let butter melt. In melted butter add finely chopped onion. Sauté until onion is tender. Add chopped small cubed bell pepper and stir for a minute. Add finely chopped tomatoes and salt to taste. Cook until tomatoes turn soft but not too soft. Add chopped cabbage, green peas and cook for just about a minute. Add boiled and diced potatoes. Give it a good mix and cook for a minute.
Step 3
Once vegetables are cooked move them aside on one side of the pan. This is how street vendors make it on the streets of Mumbai. Now in the same pan on other side add 1 tbsp butter. Adding butter twice in the recipe makes whole lot of difference. Add prepared red chili, ginger & garlic paste from step 1. Sauté until raw aroma of the ginger garlic goes away. Add Kashmiri red chili powder, pav bhaji masala and stir until butter starts separating. Add around 2 tbsp of water to ensure spices are not getting burnt and cook until butter starts separating again. Now mix vegetables with spices.
Step 4
Add cooked rice, while making rice I added turmeric powder. If you are using leftover white rice then you can add ½ tsp turmeric powder while you are adding spices in step 3. Add chopped cilantro/coriander leaves and take 2 spatulas and mix everything gently. Quick and delicious tawa pulao is ready to serve. You can enjoy tawa pulao with raita and cilantro chutney. You may also like to explore our other main course recipes.
---
Preparation Time: 10 minutes
Cook Time: 10 minutes
Serving: 3
---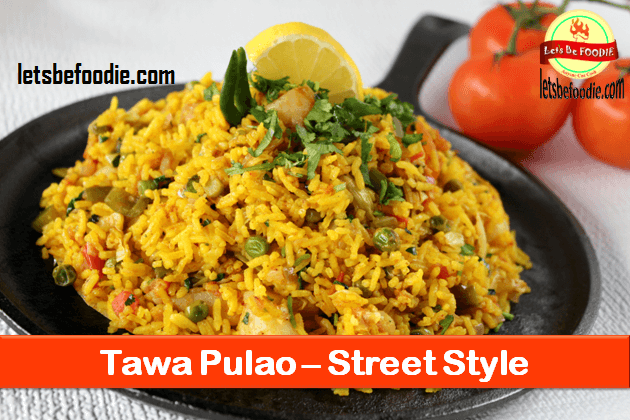 You may also like following recipes from Let's Be Foodie