Stuffed Bread Pakora Snack Recipe with Potato and Paneer
Recipe Description
Stuffed bread pakoras with paneer and potato are sure to love at first bite. Stuffed with paneer, aloo (potato) flavored with herbs and spices. Bread pakoras are famous Indian vegetarian evening snacks which is very popular on the streets of Delhi. It is quick and easy recipe to make at home. This bread pakora is filled with smooth mashed potato, seasoned paneer (Indian Cottage Cheese) with added flavor of green paste. This is one of the best snack recipes for kids and enjoyed best as tea time/ evening snack. Get ready to get your best compliments ever. It's that good. Here is step by step recipe to make delicious Dilli wale bread pakore.
Ingredients for Recipe
Stuffed Bread Pakora Recipe
150 grams chickpea flour/Besan
¼ tsp red chili powder
½ tsp turmeric powder
¼ tsp baking soda
Salt to taste
1 tsp olive oil + oil for fry
3 medium mashed potatoes
1 green chili chopped
3 cloves of garlic
1 inch ginger
30 grams of cilantro leaves
½ tsp lemon juice
½ tsp garam masala
½ tsp chaat masala
¼ tsp black pepper powder
100 grams sliced paneer/ Indian cottage cheese
Recipe Method
Step 1
In a bowl sieve besan and add spices. Add turmeric powder, red chili powder, salt to taste, baking soda and mix all dry ingredients. Now add little water at time and make smooth pouring consistency batter not too thick or runny. To this add 1 tsp olive oil mix well and keep it aside.
Step 2
In another bowl add 2 medium boiled and mashed potatoes. Make sure potatoes are mashed completely (important) with very tiny chunks in it. Make runny paste of cilantro leaves, ginger, garlic, lemon and salt to taste. Now add paste and garam masala in potatoes give it a good mix. Paste will enhance flavor of stuffing as well as it will also balance the moisture of stuffing.
Step 3
Cut thin (¼ inch) triangular slices of paneer and season with black pepper powder, chaat masala, and red chili powder. Cut triangular bread slices and spread thin (1/4 inch) layer of stuffing on 2 sliced bread. Now on one stuffed bread slice place seasoned paneer slice and top with other stuffed bread.
Step 4
Dip stuffed bread slice in the batter and coat evenly from all the sides. In medium hot oil gently place bread pakora and deep fry until golden brown and crisp from all the sides.
Step 5
Take it out in a paper towel. Cut it from the centre in triangular shape and sprinkle chaat masala. Enjoy these pakoras with coriander chutney or tomato ketchup along with hot cup of tea. You will fell in love at first bite. Do your happy dance, you made your best bread pakore!
---
Preparation Time: 15 minutes
Cook Time: 10 minutes
Serving: 3
---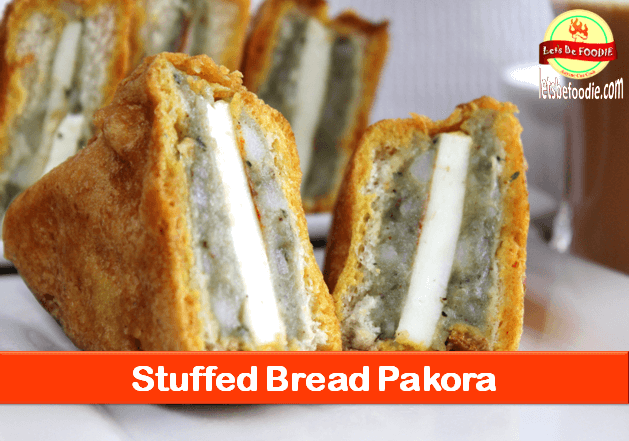 You may also like following recipes from Let's Be Foodie