Soya Manchurian Recipe
Recipe Description
Soya Manchurian is a very flavorful dish and made in Indo-Chinese style. Soya manchurian or nutrela manchurian includes soya chunks/nuggets, onion, bell pepper, spring onion with sauces and spices. Soya nuggets are grinded, seasoned with spices and deep fried. Veggies are sautéed in oil and flavored with Chinese sauces. It's a healthy must try recipe of soya which is nutritious, rich in protein and tasty. At the same time soya manchurian recipe is very easy to follow. Here is the step by step recipe. You can also check out video. Serve hot with noodles or fried rice in lunch or dinner.
Ingredients for Recipe
60 grams soya chunks (nutrela)
½ medium chopped green bell pepper (capsicum)
½ medium chopped yellow onion
20 grams chopped spring onion
¼ tsp sesame oil
2 tbsp cornstarch
2 tbsp soya sauce
1 tsp ginger paste
3 big garlic cloves
1 inch chopped ginger
¼ tsp cumin powder (optional)
¼ tsp red chili powder
1 tsp tomato ketchup
1 tsp chili sauce
3 medium green chilies
½ tsp honey
¼ tsp black pepper powder
1 ½ tbsp olive oil
½ tsp white vinegar
1 tsp rice flour
Oil for frying
1/8 tsp chili oil
Salt to taste
180 ml water
Recipe Method
Step 1
Soak soya chunks in warm water for 30 minutes. After 30 minutes, squeeze extra water from soya chunks. Grind soya chunks in grinder add little at time while grinding.
Step 2
Add crushed green chilies and crushed garlic. Add ginger paste, black pepper powder and cumin powder (cumin powder is optional). Add 1 tbsp cornstarch and 1 tbsp rice flour. Add salt to taste, red chili powder, 1 tbsp soya sauce and mix well. Try making round ball (the way you make ladoo) applying pressure. Prepare rest of the soya balls in the same way.
Step 3
Heat oil on medium high heat for deep frying. In hot oil gently drop prepared balls one by one. Fry until they turn golden brown from all the sides. Turn off the heat and take them on paper towel.
Step 4
Heat pan on medium-high heat, add 1 ½ olive oil or any vegetable oil in a pan. Add few drops of chili oil and in hot oil add chopped onion. Add chopped ginger, garlic and green chilies. Quickly stir everything and add ginger paste. Stir well and add chopped bell pepper (cut bell pepper in cubes).Cook it just about a minute and add chopped spring onion. Add 1 tbsp soya sauce, white vinegar and stir well. Add chili sauce, tomato ketchup, honey and 1/8 tsp black pepper powder. Add few drops of sesame oil and mix everything. Add 180 ml water and stir well. Bring it boil and add some spring onion, 1/8 tsp salt.
Step 5
Prepare cornstarch mixture. Add 1 tsp cornstarch and 3 tbsp water and mix well.
Step 6
Add cornstarch mixture in boiling sauce while stirring.
Step 7
Now add fried sauce balls in sauce. Mix well and cook for two minutes. Turn off the stove and soya manchurian balls are ready. Garnish with spring onion. Serve soya manchurian immediately with fried rice or noodles.
---
Preparation Time: 20 minutes
Cook Time: 15 minutes
Serving: 3
---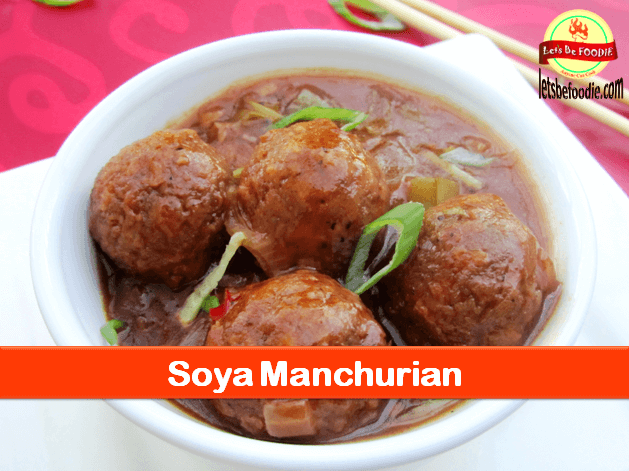 You may also like following recipes from Let's Be Foodie