Healthy Easy Vegetable Soup Recipe
Recipe Description
Try this flavorful healthy, hearty, and comforting vegetable soup. This vegetable soup is packed with tomato, cabbage, celery, beetroot, carrot, onion, garlic etc. Soup is a great way to include more vegetables in your daily meals during the fall and winter months which keeps us warm. This easy and amazing fat burning veggie soup is an excellent recipe for weight watchers. When you are determined to lose weight, vegetables are your best friends because it helps to burn more calories and good source of fiber.
Ingredients for Recipe
1 medium chopped carrot
40 grams finely chopped celery
70 grams chopped cabbage
1 medium finely chopped tomato
½ small beetroot
½ chopped yellow onion
1 finely chopped garlic
¼ tsp white vinegar
¼ tsp black pepper powder
½ tsp soya sauce
1 tsp cornstarch
Top with some butter (optional)
Salt to taste
Recipe Method
Step 1
In a pressure cooker add roughly chopped carrot, celery, beetroot, onion, cabbage, tomato, garlic and 600ml water. Add salt to taste, mix and close the pressure cooker lid. Pressure cook for 18 – 20 minutes. Turn off the stove and let it cool down.
Step 2
Once the pressure is completely gone. Open the lid and strain the vegetables. Keep vegetable stock aside.
Step 3
Make puree of vegetable in a blender or grinder. You will see beautiful color of vegetables. In a pan filter prepared puree through a strainer. It will make soup smooth.
Step 4
Turn on the heat on medium and add vegetable stock (in which you boiled vegetables). Let the soup thicken a bit. It will take 12 minutes. After 12 minutes, add ¼ tsp salt (as per your taste).
Step 5
Mix 1 tsp cornstarch with 3 tbsp of water.Keep it aside
Step 6
Add cornstarch mix from step 5, add soya sauce and white vinegar. Give it a good stir. Cook for 5 more minutes. Add black pepper powder and mix well. Turn off heat. Take out soup in a bowl and top with some butter, sprinkle little bit of black pepper powder and serve hot.
---
Preparation Time: 30 minutes
Cook Time: 20 minutes
Serving: 3-4
---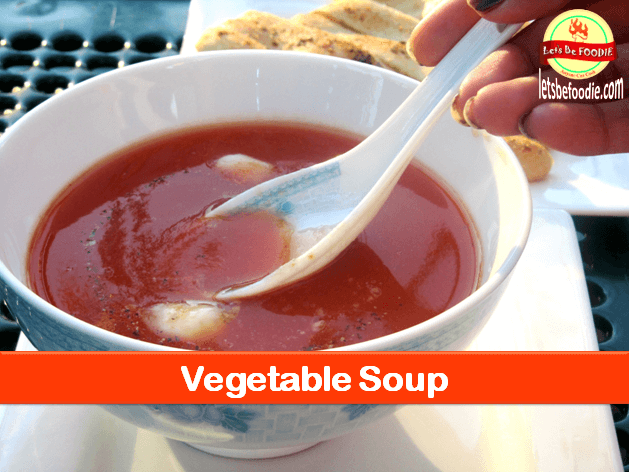 You may also like following recipes from Let's Be Foodie