Mushroom Matar Curry Recipe
Recipe Description
Mushroom matar curry is a very flavorful side dish which is cooked in onion, tomato base curry with aromatic Indian spices. This Indian matar mushroom ki sabji is tangy and spicy which really goes well with roti, puri or parathas. Green peas & mushroom is classic combination and they go along really well. This quick and easy curry can be prepared in lunch or dinner as a side dish. This matar mushroom gravy recipe is a special treat for any busy weekday. This Indian vegetarian mushroom masala is often prepared by me for my family and everyone relish it.
Ingredients for Recipe
1 lb/ 2 cups chopped mushroom
1 chopped green chili
1 large chopped onion
1 medium chopped tomato
3 tbsp tomato paste
3 crushed garlic cloves
1 cup frozen peas/ fresh peas
1 inch chopped ginger
½ tsp ginger paste
2 red dry chilies
2 bay leaves
1 tsp coriander powder
1 tsp turmeric powder
1 tsp cumin seeds
¼ tsp black pepper powder
½ tsp garam masala
¼ tsp kashmiri red chili powder
1 tbsp lemon juice
½ tsp clarified butter (ghee)
2 tbsp olive oil
30 grams cilantro (coriander) leaves chopped
Salt to taste
Recipe Method
Step 1
Wash and cut mushroom into four pieces. In a pan add water and 1 tbsp lemon juice. Bring it to boil and add mushroom. Let it boil for 3 minutes. This process will remove the raw smell of mushroom.
Step 2
While mushroom is boiling. Heat pan on medium heat and add oil. In hot oil add bay leaves, dry red chilies and cumin seeds. Add chopped ginger, green chili and stir for 10 seconds. Add chopped onion and cook till onion turns soft and translucent. Add crushed garlic, adding garlic at this point will give prominent flavor of garlic in matar mushroom masala. Add ½ tsp ginger paste and sauté for 30 seconds.
Step 3
Add chopped tomato and stir well. Cook tomato till it becomes soft. After 2 minute add tomato paste and cook for a minute. At this point of time you will see oil has started separating. Add turmeric powder, coriander powder, Kashmiri red chili powder. Mix everything and let the spices cook for 1 ½ minute. Add frozen peas, boiled mushroom and sauté. Add salt to taste, black pepper powder and garam masala powder. If you want to make it dry do not add water. I am making matar mushroom curry so it needs water. Add 450 ml water and stir well. Cover it and cook for 10 minutes.
Step 4
Remove lid and stir well. Add chopped cilantro (coriander) leaves and clarified butter (ghee). Turn off the heat. Yummy matar mashroom curry is ready. You can serve this curry hot parathas, roti, naan, puris or rice.
---
Preparation Time: 10 minutes
Cook Time: 25 minutes
Serving: 3
---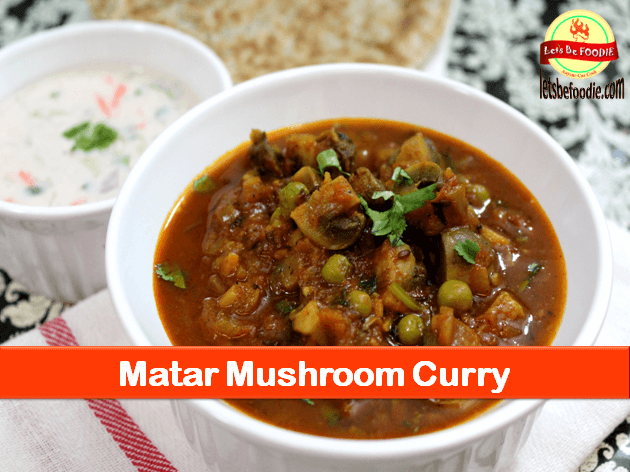 You may also like following recipes from Let's Be Foodie