Poha Recipe – Indian Breakfast Recipe
Recipe Description
QQuick and easy poha / flatten rice recipe is one of the staple breakfast which is quite filling and can be made in 10 minutes. This poha is made with flatten rice and it has extra zing of special paste of cilantro, garlic etc. which makes this recipe unique. My mom has been making this poha for long. As I remember, whenever she serves this poha to anyone, they always ask her for recipe. This poha is mainly prepared in UP (India). Here is my mom's secret recipe of poha which is truly delicious.
Ingredients for Recipe
2 cups flatten rice
1 medium chopped onion
1 medium green chili
1 tsp olive oil
1 tsp cumin seeds
3 cloves of garlic
1 inch ginger
80grams of fresh cilantro leaves
Salt to taste
1 tbsp butter
60 grams of frozen peas
60 grams of roasted peanuts
1 tsp lemon juice
Recipe Method
Step 1
Take 2 cups of thick poha (flatten rice), rinse well with water. And keep it in a bowl. Now add 1 cup of water in poha and leave it for 10 minutes.
Step 2
Take 60 grams of fresh cilantro leaves (coriander leaves/dhaniya), three cloves of garlic, one medium green chili chopped, 1 inch chopped ginger. Now grind everything in a grinder and make paste.
Step 3
Heat pan on medium, add 1 tsp olive oil (or any vegetable oil), add 1 tsp cumin seeds in hot oil, let it splutter, add 1 medium chopped onion. Sauté onions until they are tender. It will take 2 minutes. Now add ½ cup (60 grams) frozen peas. You can also use fresh peas (cook for longer time). Stir well for 30 seconds and then add prepared cilantro (coriander), garlic, ginger, chili paste. Mix everything well and cook for 2 minutes.
Step 4
Now add poha (flatten rice). Mix everything gently with rest of the ingredients. Add salt to taste, gently mix well. Now add 1 tbsp butter, gently sauté for two minutes on low heat. Add 1 tsp lemon juice, sprinkle fresh chopped cilantro (coriander) leaves. Give a gentle stir and top with 60 grams of roasted peanuts. Our very tasty & green poha is ready. Serve immediately. Relish!
---
Preparation Time: 10 minutes
Cook Time: 10 minutes
Serving: 3
---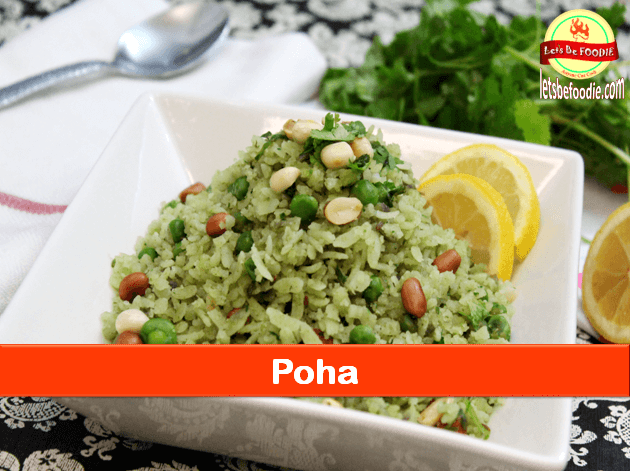 You may also like following recipes from Let's Be Foodie