Bengali Sponge Rasgulla Recipe|Rasgulla Recipe|How to make Rasgulla
Sponge Rasgulla Recipe Description
Indian famous sweet sponge rasgulla is sweet lover's favorite. This delicious syrupy dessert is made from small dumplings out of chenna (an Indian Cottage Cheese) and hint of cardamom makes it even more flavorful. If you want to try an Indian dessert that is different from the regular ones, then you have come to the right place. What we are going to prepare is one of the most famous sweet of the Indian sub continent. No Indian meal is complete without wolfing down a bit of this sweet. This rasgulla dessert adorns almost every festivity and occasion in India. Let's not waste time and get into the details quickly of preparing this mouthwatering recipe.
Ingredients for Sponge Rasgulla Recipe
900 ml whole cow milk
½ cup sugar for thin syrup
¾ cup sugar for thick syrup
3 cardamom crushed
2 tbsp white vinegar
Water
Sponge Rasgulla Recipe Cooking Method
Step 1
Prepare chenna: Heat pan on medium heat and add 900ml milk. Keep stirring so that it doesn't stick to the bottom. Scrap the sides of pot as well. Now let the milk come to the boil. Once it will start boiling turn off the stove and let milk sit for a minute. Add 2 tbsp vinegar little at time slowly stir with light hand while adding vinegar. Leave it for a minute then you will see milk has nicely curdled.
Step 2
Line a sieve with muslin cloth/cheese cloth and drain chenna. Wash chenna well with water so that no smell of vinegar is left in chenna. Pick up cloth and squeeze with light hand. Do not apply much pressure. Make a knot and hang cheese cloth for about 30 minutes.
Step 3
After 30 minutes take out chenna from muslin cloth on clean surface. Knead chenna well using your palm for 7 minutes with light pressure. It will turn smooth and chenna will release its fat and your hand will be greasy. Roll the chenna dough and divide into six equal parts. Take each portion in your hand and make smooth round ball. Rasgulla balls are ready.
Step 4
Heat pan on medium heat and make thin sugar syrup. Add ½ cup of sugar, approx 7 cups of water and cardamom. Cover it and bring it to boil. In boiling sugar syrup gently drop cheese balls one by one. Cover it and cook on medium-high heat for 5 minutes. After 5 minutes, cook on medium heat for another 7 minutes. Total cooking time is 12 minutes. Turn off heat after 12 minutes and let it cool down completely. Do not open the lid at least for 30 minutes.
Step 5
Make thick sugar syrup: Heat pan on medium heat and add 1 ½ cup of water and ¾ cup sugar. Stir once and bring it to boil. Turn off the heat and let it cool down.
Step 6
Open the lid of rasgulla pan after 30 minutes you will see rasgulla balls have doubled in size. Take them out with a spatula and transfer it in another vessel. Now pour prepared thick sugar syrup and make sure the temperature of rasgullas and thick syrup is same. Let it cool down and refrigerate it for at least 6 hours. Very spongy rasgullas are ready. You will squeeze rasgullas and they won't break. Drop them in sugar syrup at they will retain its shape. Smile, you have just made super spongy rasgullas at home.
---
Rasgulla Preparation Time: 10 minutes
Rasgulla Cook Time: 25 minutes
Rasgulla Serving: 6 pieces
---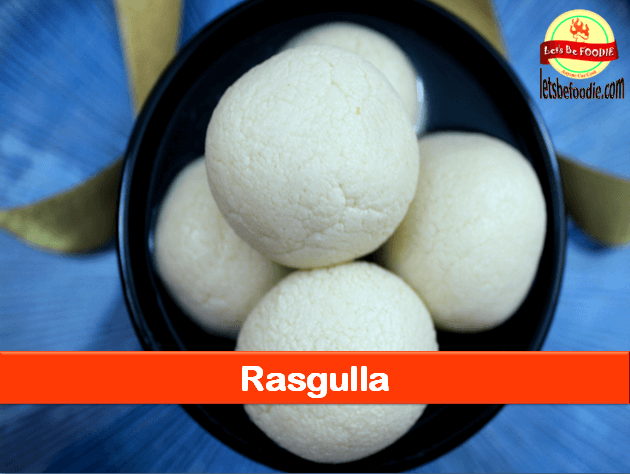 You may also like following recipes from Let's Be Foodie