Healthy Pinwheel Sandwich Recipe
Recipe Description
These pinwheel sandwiches are high in protein, low-calorie, low sodium and very delicious snack. It's perfect for your tea parties.Even your picky eater will love these bite size colorful sandwiches. Another twist to our regular sandwich comes as the pinwheel. This easy to prepare Indian tea time snack recipe is also good to go with kids in their boxes. The colorful mix of ingredients makes it a favorite amongst the kids and the easy to prepare method gives sufficient relief for their mothers as well. Stuffed with healthy veggies, this recipe provides adequate nutritional value and also keeps the stomach light. A preferred snacks for potlucks and picnics as well. So all those busy mothers pack up and get going to learn this recipe. Refer step by step recipe of pinwheel sandwich which doesn't need any cooking.
Ingredients for Recipe
8 wheat bread slices
1 medium grated carrot
100 grams boiled black gram
80 grams paneer (Indian cottage cheese)
¼ red bell pepper (capsicum)
Salt to taste
1 tsp chaat masala
½ tsp roasted cumin powder
¼ tsp black pepper powder
Cilantro mint chutney
Date tamarind chutney
2 tsp butter (optional)
Recipe Method
Step 1
Prepare Stuffing- Make paste of 100 grams of boiled black gram (kala channa), do not add water while grinding. In a bowl add black gram paste, 80 grams of finely grated cottage cheese (paneer), ¼ medium bell pepper (capsicum) finely chopped, 1 tsp chaat masala, ½ tsp roasted cumin powder, salt to taste, ¼ tsp black pepper powder. Mix everything well and stuffing is ready.
Step 2
Take bread sliced and trim hard edges. Roll two bread slices with rolling pin and then apply butter on both bread slices (butter is optional), overlap ¼ inch bread slice with another bread slice. Gently press, so that both bread slice sticks together. Apply coriander (cilantro) mint chutney on one bread slice and date tamarind chutney on other bread slice leaving ¼ inch from the front (so that stuffing doesn't come out while rolling). Add some grated cucumber over coriander mint chutney, some grated carrot on date tamarind chutney.
Step 3
Take 1 ½ tbsp prepared stuffing give sausage shape. Place sausage on bread slice (starting of bread slice of coriander mint chutney side). Gently transfer everything on parchment paper. Roll bread slice and refrigerate for 30 minutes. Take out from refrigerator after 30 minutes and cut in ½ inch slices. Healthy pinwheel sandwich is ready. Serve this cold!
---
Preparation Time: 15 minutes
Cook Time: 00 minutes
Serving: 4
---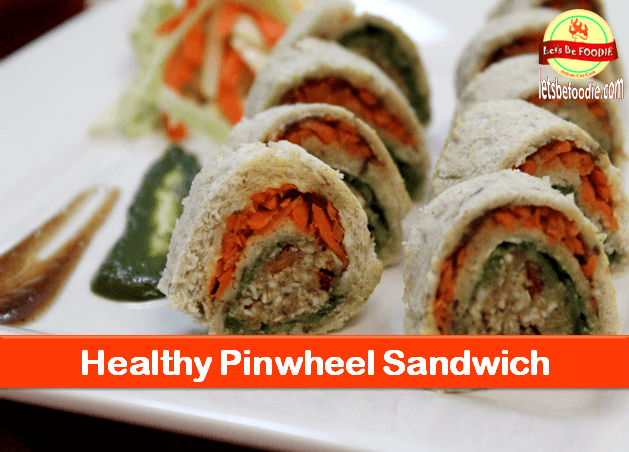 You may also like following recipes from Let's Be Foodie