Jhal Muri Recipe
Recipe Description
Jhal muri is a famous crunchy munchy Indian snack which is quick & easy to make at home. It is made with puffed rice, cucumber, carrot, tomato, spices and the special ingredient is mustard oil. There are many varieties of jhaal muri available across India but one thing is common among all i.e. they all are tasty. This Indian snack can be used as evening snack with tea. You can also relish this quick and easy snack with your family and friends over a movie. Jhaal muri is very similar to Mumbai Bhel as both are made with puffed rice. The flavors of this snack will tickle your taste buds. Here is detailed Jhal Muri recipe.
Ingredients for Recipe
200 grams puffed rice (murmure)
1 small grated carrot
1small grated cucumber
1 small finely chopped red onion
1 small tomato
20 grams roasted black gram
½ tsp ginger paste
½ tsp cumin powder
1 tsp mustard oil
20 grams pressed chickpeas
1/8 tsp mango powder
½ tsp chaat masala
Salt to taste
1 tbsp cilantro chutney/coriander chutney
1 tsp lemon juice
¼ tsp chili powder
20 grams fried peanuts
Recipe Method
Step 1
In a large bowl add grated cucumber, grated carrot, and finely chopped onion. Now add chopped and de-seeded tomato. Add cilantro chutney and cumin powder. To make it tangy add pinch of mango powder. Now add chaat masala powder and red chili powder (you can also add chopped green chili). Now add lemon juice and one of the key ingredient mustard oil. Add roasted Bengal gram (you can also use boiled black gram) and mix well.
Step 2
Now add puffed rice (murmure), roasted or fried peanuts, and pressed spicy chickpeas. Add plain bhujiya and at the end salt to taste. Mix thoroughly and very delicious jhaal muri is ready to be served. Serve immediately otherwise it will turn soggy.
---
Preparation Time: 15 minutes
Cook Time: 00 minutes
Serving: 4
---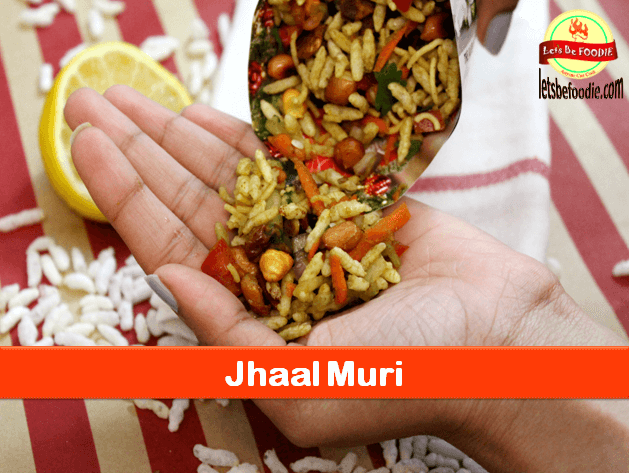 You may also like following recipes from Let's Be Foodie