Baked Katori Chaat Recipe
Recipe Description
Katori chaat or tokri chaat is made with the shredded potatoes. These crunchy munchy potato bowls are very healthy, filled with boiled chickpeas, boiled moong beans, boiled potatoes and with chutney. You can have filling of your own choice, add any beans, veggies etc. The taste is tangy, hot and sweet flavors combine to make katori chaat. These katoris are baked in the oven which makes this katori chaat recipe oil free. Try making this katori chaat recipe for party or any special occasion and for sure it will be a hit. Let everyone enjoy eating heavenly taste filled in delicious potato bowl. Best part of this recipe that there is no oil and no frying required.
Ingredients for Recipe
3 medium potatoes
1 medium boiled potato
40 grams moong beans
80 grams boiled chickpeas
¼ finely chopped onion
4 tbsp cilantro mint chutney
4 tbsp tamarind date chutney
2 tbsp sev
4 tbsp yogurt
1 tsp sweet chili sauce
¼ black pepper powder
1/8 tsp paprika
1 ½ tbsp corn starch
1 tbsp rice flour
¼ tsp chaat masala
Salt to taste
Cold water with ice
Recipe Method
Step 1
Peel and grate three raw potatoes from thick side of grater and put it in water with ice. Keep it aside for at least 15 minutes.
Step 2
In the mean time, boil chickpeas (kabuli chana) with ½ tsp turmeric powder. When it is boiled completely, drain water, take it out in a bowl and add salt and sweet chili sauce. You can use any chili or hot sauce. Keep it aside.
Step 3
Peel and boil 1 potato. Once it is boiled, run it under cold water and then dice it into small pieces. Add salt to taste, few dashes of black pepper powder and few dashes of chaat masala & chili powder. Mix well and keep it aside.
Step 4
Boil moong beans. Drain out water and keep moong beans aside.
Step 5
Squeeze out shredded potato from water (from step 1) and make these shredded potatoes as dry as possible using paper towel. Add 1 ½ tbsp corn starch (corn flour), 1 tbsp rice flour, and salt to taste. Mix well.
Step 6
Grease baking muffin tray properly with oil/butter/baking spray. Put shredded potato mixture in the muffin cup and make a thin lining along the wall of muffin cup (just like a well). Pre-heat your oven at 350F/ 175C and bake for 30 minutes or until you see edges are getting brown.
Step 7
Take out the muffin tray out of oven. With help of fork or knife, take out the potato katoris out of the muffin cups.
Step 8
Add 1 tbsp chickpeas (from step 2), some diced potatoes (from step 3), some green chutney (coriander mint chutney), some moong beans (from step 4), some diced red onion, add some curd/yogurt, sprinkle roasted cumin seeds, some tamarind date chutney and top it with sev.
---
Preparation Time: 20 minutes
Cook Time: 30 minutes
Serving: 3
---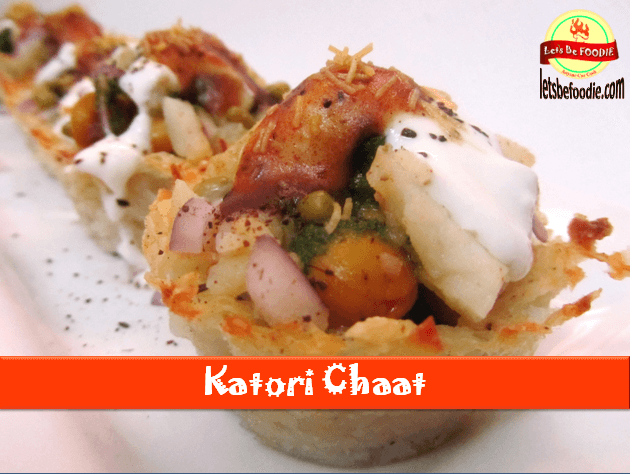 You may also like following recipes from Let's Be Foodie