Baked Samosa Recipe|Samosa Recipe|Potato Samosa Recipe
Baked Samosa Recipe Description
Samosa is staple Indian snack and you will fall in love with its first bite. Samosa dough is made of all purpose flour and stuffed with spicy potato etc. Samosa has crisp layer from outside and delicious filling of crumbly boiled potato. Usually samosa (Indian pastry) is fried but I am sharing baked version of this yummy snack. Now who can say no to these samosas? These samosas are very light, crispy and delectable. Low calories snack for everyone. No frying/less oil/ low- fat recipe. Eat guilt free oven baked healthy samosa with a hot cup of chai (tea) and enjoy your evening snack. Serve these samosas with tamarind date chutney or any chutney/sauce of your choice.
Ingredients for Baked Samosa Recipe
2 medium boiled & cubed potato
½ tsp turmeric powder
1 chopped green chili
½ tsp chaat masala
1 ½ cup (200g) all purpose flour
Salt to taste
2 tbsp clarified butter (ghee)
25 grams of chopped cilantro
½ tsp black powder
1 small chopped red onion
1 tsp cumin seeds
1 tsp crushed coriander seeds
½ cup green peas
½ tsp garam masala
2 tsp clarified butter for stuffing
1 inch chopped ginger
½ tsp carom seeds
¼ tsp nigella seeds
50g cottage cheese paneer
1 ½ tbsp olive oil
Water
Baked Samosa Recipe Cooking Method
Step 1
To make dough: In a bowl add 1 ½ all purpose flour, 2 tbsp melted clarified butter (ghee), salt to taste, 1 tbsp vegetable oil, ¼ tsp carom seeds, ¼ tsp nigella seeds (kalonji), mix everything thoroughly. Now rub all purpose flour, ghee, salt and oil between your palms for two minutes. Make sure all the grains are coated well with ghee and oil.
Step 2
Add cold water little at a time and knead stiff dough. Kneading will take 7minutes. Use approx ¼ cup of cold water to knead dough.
Step 3
Cover the dough for 30mins with wet paper towel or wet cloth.
Step 4
Stuffing: In a pan add 2 tsp clarified butter (ghee), once it's hot add 1 tsp cumin seeds (jeera), 1 tsp crushed coriander seeds, 1 inch chopped ginger, 1 chopped green chili. Stir a bit. After 20 seconds add 1 small finely chopped onion, give it a good stir, after a min add ½ tsp turmeric powder, 1 tsp garam masala, mix well and add ½ cup green peas. Sauté for a min, add 50 grams very small cubed paneer, mix everything and stir for a min. Add ½ tsp chaat masala, ½ tsp black salt, mix it. Add 2 medium boiled and roughly chopped potatoes, again mix everything and smash the chunks of potatoes and cook for 2 minutes. Now turn off the heat add fresh chopped coriander leaves. Let the mixture cool down completely. Stuffing is ready.
Step 5
Make Samosa: Give dough a quick knead and divide into five equal parts. Take one dough ball and flatted a bit and roll it. Make sure you do not roll it very thick or thin (for more details watch video). Now cut the rolled dough into half. Take one part and apply water on the straight side. Make a cone, sealing it nicely. Add 2 tbsp stuffing in the samosa cone, apply water on the edges. Give a fold in the center of the edge, pull it back and seal the edges. (Watch video for more details). Press it from the bottom of samosas and make them stand. Cover prepared samosas while you are preparing rest of the samosas. Place samosa on baking tray gently and brush samosas with oil.
Step 6
Baking: Bake samosas at 375 F (180C) for 45 minutes; turn them once after 20 minutes. Take out samosas from the oven after 45mins. Enjoy healthy, crisp, light samosas are ready to eat. Serve with tamarind date chutney or any other chutney of your choice.
---
Baked Samosa Recipe Preparation Time:
15 minutes
Baked Samosa Recipe Cook + Bake Time:
53 minutes
Baked Samosa Serving:
10 samosas
---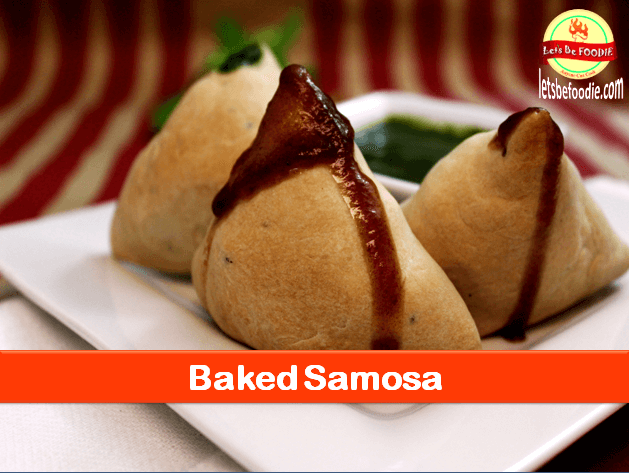 You may also like following recipes from Let's Be Foodie