Healthy Baked Onion Crackers Recipe
Recipe Description
Baked healthy onion crackers are guilt-free munching. Low calorie tea time snack with very few ingredients. These crackers are quick and easy to make. Baked crackers are very healthy and it's made with whole wheat flour, onion, cilantro etc. These crackers are much better and healthy than store bought. Baked savory onion crackers are crispy and delicious. These healthy whole wheat onion crackers are loaded with white sesame seeds and are mildly spiced.
Ingredients for Recipe
2 cups (250grams) wheat flour
1 medium finely chopped onion
50 grams cilantro (coriander) leaves finely chopped
1 small green chili finely chopped
1 tsp onion powder
¼ tsp black pepper powder
2 tbsp dried fenugreek leaves
1 ½ tbsp yogurt/ sour cream
1 tbsp cumin seeds
2 tbsp sesame seeds
½ tsp baking soda
Salt to taste
4 tbsp olive oil
Recipe Method
Step 1
In a large bowl add wheat flour, salt to taste, cumin seeds, sesame seeds, green chili, fresh cilantro leaves, baking soda, onion powder, dried fenugreek leaves, finely chopped onion and sour cream (you can also add yogurt/curd). Mix well and add 4 tbsp olive oil. Knead very tight dough using very less water. Cover dough with damp cloth or with wet paper towel. Let it sit for 20 minutes.
Step 2
After 20 minutes, massage dough for the final time. Now take 1 tbsp dough, make round ball and roll in as thin as possible. With a square cookie cutter cut it and prepare rest of them in the same way. Using a fork prick them (crackers won't puff up).
Step 3
On a cooking sheet transfer all the crackers and bake them for 22 minutes on 350 F/ 180C. Take them out after 11 minutes and flip them and put it back in the oven. Do not over bake as onion will turn bitter. After 22 minutes, take out crackers from the oven and let them cool down. Crunchy, munchy healthy baked crackers are ready for serving. Serve with your favorite topping or simply enjoy guilt free munching with tea.
---
Preparation Time: 15 minutes
Cook Time: 22 minutes
Serving: 24 crackers
---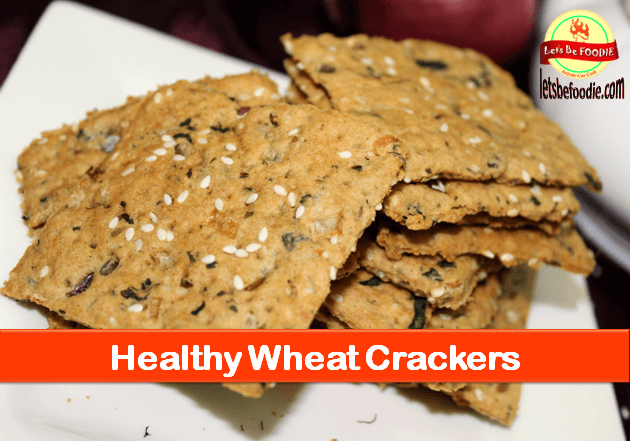 You may also like following recipes from Let's Be Foodie