Easy Delicious Manchow Soup Recipe
Recipe Description
Try out this easy, simple manchow soup recipe (Chinese soup with mix vegetables) which is low-fat, rich in nutrition, high-fiber vegetables that make it a hearty choice in fall and winter. This colorful and light soup combines a blend of crunchy vegetables like, carrot, cabbage, celery, green beans, bell pepper, mushroom, garlic etc. Soups are always great to start your meal and if you are in mood of trying Indo-Chinese soup this one is perfect for you. Manchow soup is hot and sour which will tickle your taste palates. You can enjoy manchow soup steaming hot at home. Here is step by step recipe of manchow soup to make at home.
Ingredients for Recipe
1 medium finely chopped carrot
40 grams finely chopped celery
40 grams finely chopped green beans
70 grams chopped cabbage
½ chopped bell pepper (capsicum)
3 finely chopped garlic
2 inch finely chopped ginger
1 tbsp soya sauce
1 tsp white vinegar
1 medium finely chopped mushroom
1 ½ tbsp cornstarch
¼ tsp black pepper powder
1/8 tsp chili oil (optional)
20 spring onion
1 tbsp tomato ketchup
1 tsp olive oil
Salt to taste
Recipe Method
Step 1
In a pan add 500 ml water and bring it boil. Add chopped carrot, celery, green beans and after a minute add cabbage. Cover it and let it boil for 7 minutes.
Step 2
In another pan add 1 tsp oil. In hot oil add ginger and garlic. Stir for 30 seconds and add bell pepper. Add chopped mushroom and sauté for a minute. Now add boiled vegetable and stir everything for a minute. Add dashes of chili oil (optional) and mix well. Add tomato ketchup and sauté for 30 seconds. Now add vegetable stock in which you boiled veggies. Cover it and let it boil for three minutes.
Step 3
Mix 2 ½ tbsp cornstarch with 1/4 cup of water.
Step 4
After 3 minutes. Add soya sauce, white vinegar, and black pepper powder. Add salt to taste (do not add much salt as soya sauce also contains sodium) and give it good mix. Add chopped spring onion and stir well.
Step 5
Add cornstarch mix from step 3 and keep stirring while adding. Cook for 2 more minutes. Turn off heat after 2 minutes and manchow soup is ready. Take out soup in a bowl and top with fried noodles (optional).
---
Preparation Time: 10 minutes
Cook Time: 15 minutes
Serving: 2
---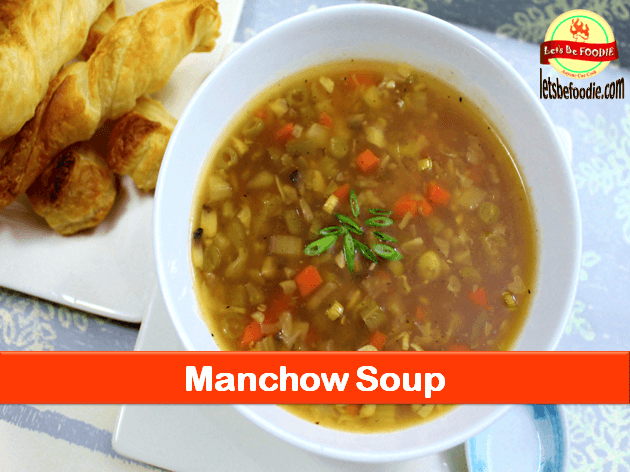 You may also like following recipes from Let's Be Foodie