Bread Kabab Rolls Recipe
Recipe Description
Looking something for evening snack? Bread kabab recipe is perfect for any get together as a starter. This bread kabab has a covering of bread and stuffed with boiled potato and spiced with Indian spices. These kababs are crispy from outside and moist, spicy from inside. This is my family favorite recipe of bread kabab rolls. These bread kababs used to be a staple snack for everyone's birthday in my family. No one can eat just one, they are so delectable. Try making this yummy Indian bread kabab snack at home and share with your loved ones. Enjoy with evening tea or pack in your kid's lunch box.
Ingredients for Recipe
12 white bread slices
6 medium boiled potatoes
½ tsp mustard seeds
½ tsp cumin seeds
1 tsp coriander seeds (broken)
1 small finely chopped tomato
2 green chilies chopped
6 cloves of garlic finely chopped
1 ½ inch ginger finely chopped
2 bay leaves
½ tsp turmeric powder
1 tsp garam masala
1 tsp coriander powder
1 tsp kashmiri red chili powder
70 grams roasted peanuts
40 grams cilantro (coriander) leaves chopped
Salt to taste
1 ½ tbsp olive oil/vegetable oil
Oil for shallow frying
Recipe Method
Step 1
In a pan add 1 ½ tbsp oil and heat on medium heat. In hot oil, add mustard seeds, cumin seeds, broken coriander seeds, bay leaves and give quick stir. Add green chilies and stir again. Add 1 finely chopped red onion and sauté for 3 minutes. Now add garlic, ginger and sauté few minutes. Add 1 small chopped tomato and until tomato turns soft. Add turmeric powder, coriander powder, kashmiri red chili powder and salt to taste. Sauté for 2 minutes. Add garam masala powder and mix well. Add boiled and mashed potatoes, crushed peanuts, cilantro leaves. Mix well and stuffing is ready. Let it cool down.
Step 2
Trim edges of bread slices. In a bowl add 2 cups of water. Dip bread in water let the bread absorb water, press bread in your palms so that excess water is drained out. Put 2 tbsp potato mixture in the centre of bread. Now join the edges. Squeeze the extra water and make sure potato filling is not coming out while doing this process. Give a shape like a cutlet.
Step 3
Heat oil in pan for shallow frying on medium heat. In hot oil add bread kebab one by one. Fry bread kebabs until they turn crisp and evenly golden brown from all the sides. Take out on a kitchen paper towel to remove excess oil. Stuffed bread kebabs are ready to serve. Serve these kebabs with your favorite chutney or tomato ketchup.
---
Preparation Time: 15 minutes
Cook Time: 20 minutes
Serving: 4-5
---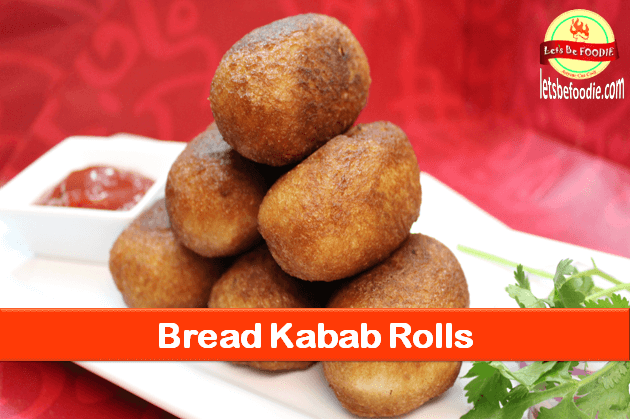 You may also like following recipes from Let's Be Foodie