Tamarind Date Chutney Recipe
Recipe Description
Tamarind date chutney is easy to prepare at home. Its one stops solution chutney for many fried snacks. Imli ki chutney is sweet and sour which makes it very tongue tickling. This tamarind date chutney is made with tamarind, date and jaggery. Taste is sweet tangy and mildly spiced. The flavors are so intense that just a drizzle is enough for every bite. It's a multi-purpose dip goes well with any kind of chaat, starter like: samosa, pani puri, bhel puri, sev puri etc. I make this chutney always in advance and refrigerate it. This chutney is good to go for atleast 2 weeks if you store in air-tight container and refrigerate it. Here is step by step recipe of date & tamarind chutney.
Ingredients for Recipe
1 cup/130 grams tamarind (imli)
1 cup/130 grams date
1 cup/130 grams jaggery
½ tsp kashmiri red chili powder
½ tsp black salt
1 tbsp oil
½ tsp salt
1 bay leaf
1 dry red chili
½ tsp mustard seeds
½ tsp fenugreek seed
1 tsp fennel seeds
½ tsp cumin seeds
½ tsp carom seeds
½ tsp nigella seeds (kalonji)
1 tsp ginger paste
Water
Recipe Method
Step 1
In warm water soak tamarind for 30 minutes. Heat pan on medium heat and add soaked tamarind with pulp and water. Add roughly chopped date and grated jaggery. Let the jaggery dissolve and mixture thicken a bit. Stir for a minute and add 300 ml water. Again stir well and cover the lid. Let it cook for 5 minutes.
Step 2
Add Kashmiri red chili powder, salt to taste and black salt. Give it a good stir and cover the lid again. Cook for 2 to 3 minutes.
Step 3
Let's start preparing tempering. Heat pan on medium heat and add oil. In hot oil add bay leaf, dry red chili, mustard seeds, cumin seeds, nigella seeds, fenugreek seeds, fennel seeds, ginger paste and stir for 40 seconds. Tempering is ready.
Step 4
Add tempering in date tamarind solution and cook for 2 more minutes. Turn off the heat and strain prepared chutney. Tamarind date chutney is ready. You can refrigerate this chutney for 2 weeks in an air tight container. Enjoy this chutney with fried snacks.
---
Preparation Time: 10 minutes
Cook Time: 16 minutes
Serving: 7
---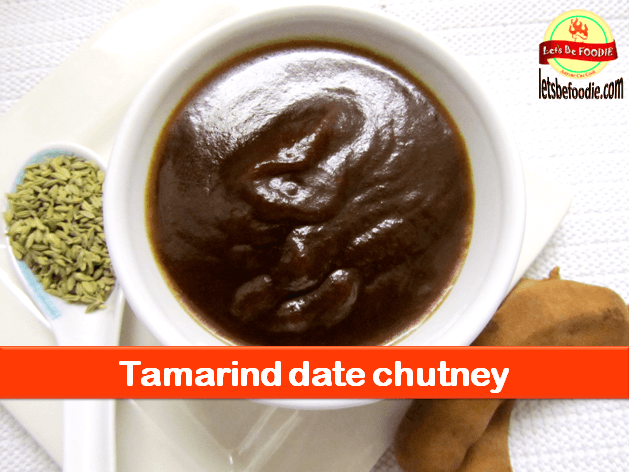 You may also like following recipes from Let's Be Foodie
Leave Comment(s) or Suggestion(s)