Bagel Egg Sandwich Recipe with Hash Browns for Breakfast
Recipe Description
Quick and easy breakfast sandwich with bagel, egg, veggies, cream cheese & hash browns (potato) are ideal for brunch/breakfast. Bagel & cream cheese is one of the classic combinations and can be made in jiffy. Toasted bagel & cream cheese flavored with nutty pecans, carrots, tomato, and fruity pineapple. Here is an easy step by step recipe for how to make bagel egg sandwich recipe with crispy hash browns & cream cheese at home. Try this delicious recipe for your loved ones and share your happiness with everyone. I love to enjoy with steaming hot cup of coffee. Simple pleasures of life.
Ingredients for Recipe
2 toasted bagel
2 tbsp grated carrot
3 tbsp cream cheese
1½ tbsp pecans chopped
2 tbsp pineapple chunks
1½ tbsp tomato deseeded
1 tsp jalapeno deseeded chopped
¼ tsp black pepper powder
1 tbsp chopped onion
2 hash browns
1 bell pepper/ capsicum
Some chili flakes
½ tsp olive oil
1 large egg
1 jalapeno (for rings)
Recipe Method
Step 1
In a bowl add 3 tbsp cream cheese (preferred if it's on room temperature) and mix well. To this, add deseeded jalapeno, tomato, carrot, pecans (you can also use walnuts), pineapple and just give it a good mix.
Step 2
Cut ring slice of bell pepper approx ½ inch and remove seeds. Also cut ring slice of jalapeno pepper and remove seeds. In a bowl crack one egg, add chopped onion, black pepper and pinch of salt. Beat well and keep it aside.
Step 3
In a greased pan set on medium heat, place bell pepper slice and jalapeno in the centre of bell pepper. Pour egg mixture and gently stir with spoon or fork. Cook on low medium heat sprinkle some chili flakes and cook from both the sides until golden brown.
Step 4
Spread prepared cream cheese on toasted bagel, top with cooked egg disk. Place hash brown and cover with bagel half.
---
Preparation Time: 10 minutes
Cook Time: 4 minutes each
Serving: 2
---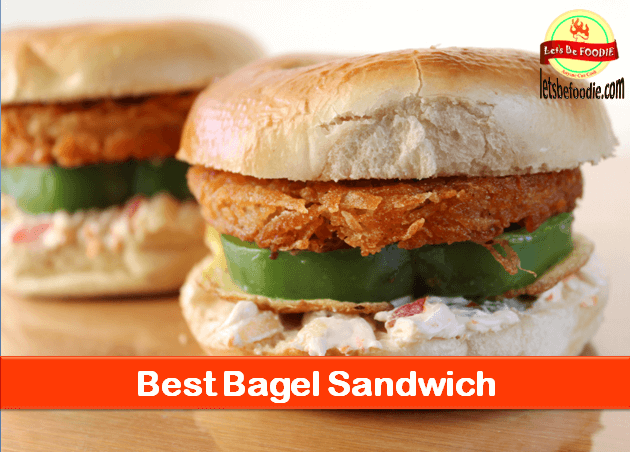 You may also like following recipes from Let's Be Foodie