Bihari Baked Sattu Litti Recipe
Recipe Description
Sattu litti / baati chokha recipe is a famous India's Bihar delicacy. Sattu litti is a traditional cuisine of Bihar (India), which is mainly served as a main course. Sattu is roasted gram flour and used as stuffing with spices, herbs and veggies. Litti is made with whole wheat flour and stuffed with sattu. This popular Bihari dish is vegetarian delight and can be prepared for lunch or dinner. These littis are baked in oven and served with chokha of baingan/brinjal/egg plant. This dish is low calorie, healthy dinner / lunch option when no clarified butter is applied on top. Serve these littis with baingan bharta/chokha.
Ingredients for Recipe
Ingredients for stuffing:
¾ cup sattu (roasted gram flour)
1medium green chili chopped
1 small finely chopped onion
2 big finely chopped garlic cloves
1/8 tsp black pepper powder
¾ tsp carom seeds (ajwain)
¾ tsp nigella seeds (kalonji, mangrail)
1 inch finely chopped ginger
1 tbsp lemon juice
¼ tsp pickle masala
2 tbsp mustard oil
Salt to taste
Ingredients for dough:
2 cups / 260 grams wheat flour
11/2 tbsp olive oil
¼ tsp salt or to taste
¾ cup water
Some clarified butter
Recipe Method
Step 1
Prepare dough: In mixing bowl sieve whole wheat flour to this add salt to taste and olive oil. Now mix everything thoroughly. Rub whole wheat flour, salt and oil between your palms for a minute. Add little water at a time and knead stiff dough. Cover it and set aside for 20 minutes.
Step 2
Prepare stuffing: In a bowl add roasted gram flour (sattu), carom seeds, and nigella seeds. Add finely green chili, and salt to taste. Add finely chopped garlic, ginger, and onion. Add finely chopped cilantro leaves, black pepper powder and pickle masa1a. Add mustard oil and lemon juice and mix well. Stuffing is ready.
Step 3
After 20 minutes, check dough and give quick massage to the dough before rolling. Take medium size dough portion (approx 1 ½ tbsp), make flat round shape and poke in the centre and expand in size approx 3 inch diameter making a well. Now add 2 tbsp sattu stuffing in the well gather all the edges and seal it completely. Make a round ball and then lightly press it. Repeat the process for rest of the littis. While you are preparing rest of the littis make sure prepared littis are covered. Transfer littis on a baking tray.
Step 4
Baking: Bake littis for 15 minutes on 400F/200C. Take out litti tray from the oven and flip littis. Bake again on 380F/190C for another 30 minutes. Grease warm littis with clarified butter (ghee) and serve with smoky baingan bharta.
---
Preparation Time: 15 minutes
Bake Time: 45 minutes
Serving: 8 Littis
---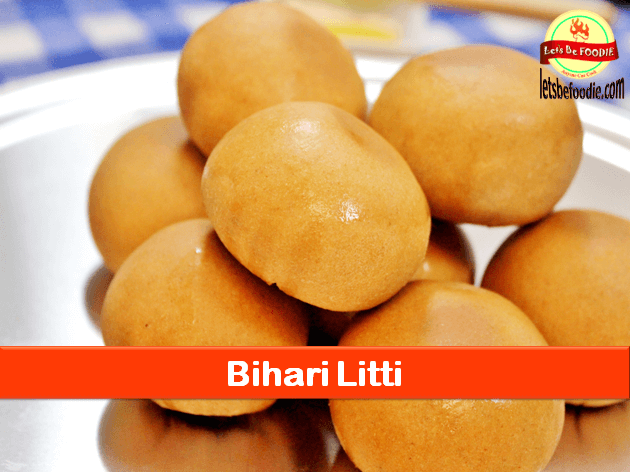 You may also like following recipes from Let's Be Foodie