Vegetable Momos Recipe|How to make Momos at Home|Steamed Vegetarian Dumplings
Vegetable Momos Recipe Description
How to make Momos: Veg Momos or vegetarian dumplings are steamed dumplings stuffed with vegetable. Momo dumpling has a very delicate steamed covering which holds stuffed vegetables inside. Momos stuffing is made with grated cabbage, carrot, green beans, onion, garlic etc. My joy was double when my Nepali friend said: this is the best momos he ever ate. Veg momos is something which I have always relished in Delhi (India). This Tibetan delicacy is now a day's very popular in India. I am sharing how to prepare veg momos recipe here which I made from scratch. Serve these steamed beauties with momos chutney.
Ingredients for Vegetable Momos Recipe
150 grams grated cabbage
50 grams chopped green beans
1 finely chopped onion
20 grams spring onion
1 large grated carrot
1 ½ tbsp butter
200 grams all purpose flour (maida)
Salt to taste
½ tsp oil
1 ½ tbsp ginger-garlic paste
¼ tsp black pepper powder
Vegetable Momos Recipe Cooking Method
Step 1
In a bowl add all purpose flour, ¼ tsp salt and add little water at a time. Knead medium dough. Apply oil all over the dough and give massage. Cover dough with damp cloth or with wet paper towel. Let it sit for 20 minutes.
Step 2
In a medium heated pan add butter. Add ginger garlic paste and sauté for 20 seconds. Add finely chopped onion. Stir for a minute and add finely chopped green beans, grated carrot. Mix well and cook for 2 minutes. Add finely chopped cabbage and cook for just about a minute. Add salt to taste, black pepper powder and chopped spring onion. Mix well and turn off the. Turn off the heat. Let stuffing cool down completely.
Step 3
After 20 minutes, check dough and give quick massage to the dough before rolling. Divide dough in half size make flat round shape and roll in into big thin disk. Cut circular shape using round cookie cutter. Take out the circular shapes one by one and keep them covered. Take one of those circular shapes, roll edges thinner than the center. Now add stuffing in the centre and fold as shown in the video above.
Step 4
Boil water in a vessel. Grease steamer with oil and place prepared momo dumplings on it. Once water in the vessel starts boiling, place steamer carefully into the vessel. Cover the vessel with lid and let it steam for 13-14 minutes on high medium heat.
Step 5
Take out steamer out of the vessel and let it cool for 2 minutes. Serve steaming hot momos with momos chutney. You can refer momos chutney recipe on Let's Be Foodie website.
---
Vegetable Momos Preparation Time:
10 minutes
Vegetable Momos Cook Time:
20 minutes
Vegetable Momos Serving:
4
---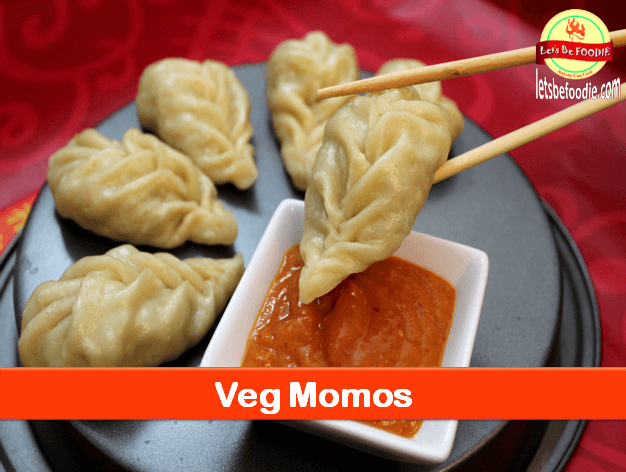 You may also like following recipes from Let's Be Foodie