Aloo Paratha Recipe-Indian Aloo Stuffed Paratha-Paratha Recipe
Recipe Description
Aloo paratha is stuffed Indian bread which is very famous and loved by all. Aloo paratha is stuffed with spicy potato mixture and staple breakfast or brunch on weekends especially in Northern part of India. This is quick and easy recipe of soft aloo paratha which is full of flavors. Many time people struggle to make soft paratha. Nothing can beat mummy ke haath ke bane garma garam soft parathe. No more struggle for making soft paratha. Learn quick and easy way to make soft and yummy aloo paratha.
Ingredients for Recipe
300 grams wheat flour
4 green chilies chopped
5 medium boiled potatoes
1mediun chopped onion
6 cloves chopped garlic
1 ½ inch chopped ginger
1 tsp chaat masala
¼ tsp garam masala
1 tbsp olive oil
½ tsp carom seeds (ajwain)
½ tsp nigella seeds (kalnoji)
30 grams finely chopped cilantro leaves
Salt to taste
Some clarified butter
Extra wheat flour for dusting
Recipe Method
Step 1
Prepare dough: In a mixing bowl add 300 grams of wheat flour to this add little water at time and knead medium dough. (Tip: First add ½ cup of water and then add little water at a time). Cover it and set aside for 20 minutes.
Step 2
Prepare stuffing: In a bowl add 4 medium boiled and roughly mashed potatoes. Add finely chopped onion, chopped green chilies, garlic, ginger, carom seeds, nigella seeds, chaat masala, garam masala, salt to taste, chopped cilantro leaves and 1 tbsp olive oil. Mix well and make sure no big chunks of potatoes left. Stuffing is ready.
Step 3
After 20 minutes, check dough and give quick massage to the dough before rolling. Take medium size dough portion (approx 1 ½ tbsp), make flat round shape and dip in the wheat flour. Poke in the centre and expand in size approx 3 inch diameter making a well. Now add stuffing in the well gather all the edges and seal it completely. Dip in the flour again and flatten with your hands so the stuffing is evenly distributed. Roll it into a flat circle around 6 to 7 inch diameter.
Step 4
Heat pan on medium-high heat. Place paratha on the slightly greased pan, once you see bubbles flip paratha on other side. Apply clarified butter on both the sides, gently press paratha with spatula and you will see it will puff up. Take out in a plate and soft delicious parthas are ready to serve. Serve this paratha with cilantro chutney/pickle and yogurt.
---
Preparation Time: 15 minutes
Cook Time: 3 minutes/paratha
Serving: 10 Parathas
---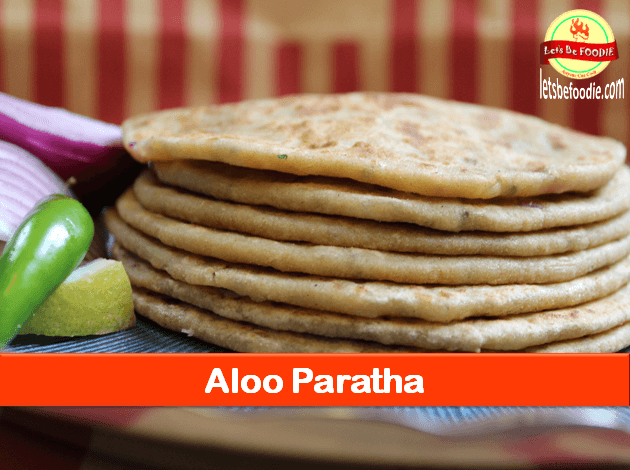 You may also like following recipes from Let's Be Foodie