Kathi Roll Recipe–Veg Frankie Recipe-Street Food Snacks
Kathi Roll Recipe Description
I am sharing kathi roll / Veg Frankie recipe for all kathi roll lovers. Kathi roll is made with flat bread, filled with paneer, potato tikkis and flavored with chutneys etc. This kathi roll is perfect for breakfast/lunch/dinner or to go. Kids also enjoy eating kathi roll without any fuss. This spicy, sweet and tongue ticking kathi rolls filled with tons of bursting flavors in soft rolled chapatti or wrap. You can play with ingredients and add veggies of your own choice. Kathi roll is also known as Frankie or traditionally people use to call it "Kati roll" which comes from Kolkata (India). Try out this easy recipe of homemade vegetarian kathi roll recipe. Raha na jaaye ek aur ho jaaye. Step by step recipe of kathi roll:
Ingredients for Kathi Roll Recipe
2 cups (250grams) wheat flour
1 cup (130grams) all purpose flour
180 grams paneer (Indian cottage cheese)
2 medium boiled potatoes
1 silted green chilies
1 small finely onion
1 medium sliced onion
1 medium finely sliced tomato
1/2 bell pepper (capsicum) thinly sliced
1 tbsp ginger-garlic paste
1/4 tsp turmeric powder
¼ tsp black pepper powder
1 tsp garam masala
½ tsp kashmiri red chili powder
½ tsp cumin powder
½ tsp coriander powder
½ tsp red chili flakes
1 whole red dry chili
30 grams cilantro (coriander) leaves chopped
Salt to taste
2 tbsp olive oil
2 tbsp tomato sauce
1 tbsp white vinegar
1 ½ inch ginger juliennes
Kathi Roll Recipe Method
Step 1
Prepare dough: In a mixing bowl add wheat flour, all purpose flour and ¼ tsp salt (or as per taste) Mix all the dry ingredients and then add little water at a time and knead medium dough (not very stiff or soft. Now apply few drops oil and massage the dough. Cover and keep dough aside for 20 minutes.
Step 2
In a bowl, add boiled potatoes, grated paneer (an Indian cottage chesse), chaat masala, garam masala, cumin powder, black pepper powder, chopped green chili, chili flakes (optional), salt to taste, mango powder, cilantro leaves and bread crumbs. Mix all the ingredients well. Take 2 tbsp of mixture and give shape of tikki (rectangular). Prepare rest of the tikkis in the same way.
Step 3
Heat pan on medium heat and add 1 ½ tbsp of oil. Place all the prepared tikkis and cook until they turn golden brown from both the sides. Take out on a plate lined with paper towel and keep them aside.
Step 4
In the same pan 1 tsp of oil. In hot oil add ginger juliennes, sliced onion and sliced pepper. Cook for 5 minutes on high-medium heat. Sprinkle salt to taste and take out on a plate.
Step 5
Check dough and give final knead. Your dough will be smooth and soft. Take a big size ball, using rolling pin roll ball into 11 inch diameter circle. Make sure not to roll it very thin (little thicker than chapatti).
Step 6
Heat pan on medium-high heat. Place rolled chapatti on the pan, once you see air pockets appearing flip chapatti. Apply olive oil on both the sides, gently press chapatti with spatula. It helps in even cooking. Soft chapatti is ready for kati roll.
Step 7
Let's assemble kathi roll. On a plate place chapatti, add a tbsp of cilantro chutney on top of that place 2 tikkis. Now add sautéed veggies, sprinkle some chaat masala, add some lettuce, add de seeded chopped tomato, add 1 tbsp tamarind date chutney and sprinkle some chopped cilantro leaves. For extra zing squeeze some lemon. Give a tight roll and make a wrap. Tangy, sweet and delicious kathi roll is ready to serve.
---
Kathi Roll Preparation Time: 30 minutes
Kathi Roll Cook Time: 12 minutes
Kathi Roll Serving: 5
---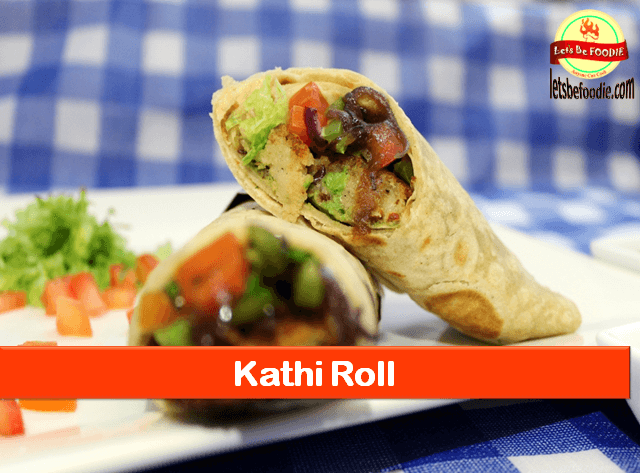 You may also like following recipes from Let's Be Foodie