Indian Yogurt Kadhi Recipe
Recipe Description
This Kadhi recipe is quick and easy, it can be made in just 10 minutes. In fact, I call this "kadhi in hurry". Kadhi is famous Indian vegetarian dish which is made with beaten yogurt, onion and spices. This Kadhi recipe has no besan which makes this recipe unique and quick. Tangy and infused flavor of garlic is what makes it so delicious. Kadhi is tempered with mustard seeds, dry chilies and special ingredient is aromatic curry leaves. Everyone loves to kadhi chawal and it is an ideal maincourse for lunch/dinner. This simple side dish has many variations like: Punjabi, Rajasthani, Gujarati, Sindhi and all prepared this kadhi in a little different way. Kadhi is mostly eaten with plain boiled rice. Here is step by step recipe of curd kadhi.
Ingredients for Recipe
1 cup /130 grams plain yogurt
4 curry leaves
¾ tsp mustard seeds
1 bay leaf
2 red whole dried chili
½ tsp cumin seeds
1 tsp turmeric powder
1 sliced tomato
1 small sliced onion
2 cloves of garlic
1 inch ginger
¼ tsp kashmiri red chili powder
½ tsp coriander powder
¼ tsp cumin powder
2 tsp oil
1/8 tsp paprika or red chili powder
Salt to taste
Water
Recipe Method
Step 1
Heat pan on medium heat, add 1 tsp oil. In hot oil add ½ tsp mustard seeds, cumin seeds, bay leaf and whole red chili. Now add sliced onion and sauté until onion turns translucent. Add some salt and sauté for a minute. Add chopped ginger, garlic and stir until raw aroma of ginger garlic goes away.
Step 2
In a bowl, add turmeric powder, coriander powder, cumin powder and paprika or red chili powder. Mix well and keep it aside.
Step 3
Add prepared spices in onion and give it good stir. Add sliced tomato sauté until tomato turns soft. Add salt to taste. Mix well and turn off the stove.
Step 4
In a big bowl combine yogurt with water (1 cup yogurt & 1 ½ cup water) and whisk until it looks smooth. Make sure there are no lumps in yogurt.
Step 5
Tempering: Heat pan on medium heat and add 1 tsp oil. Add ¼ tsp mustard seeds, whole dry red chili, some curry leaves and kahimiri red chili powder. Pour tempering in prepared yogurt kadhi. Quick and delicious kadhi is ready to serve. This kadhi goes well with plain rice. Enjoy ☺
---
Preparation Time: 5 minutes
Cook Time: 8 minutes
Serving: 3
---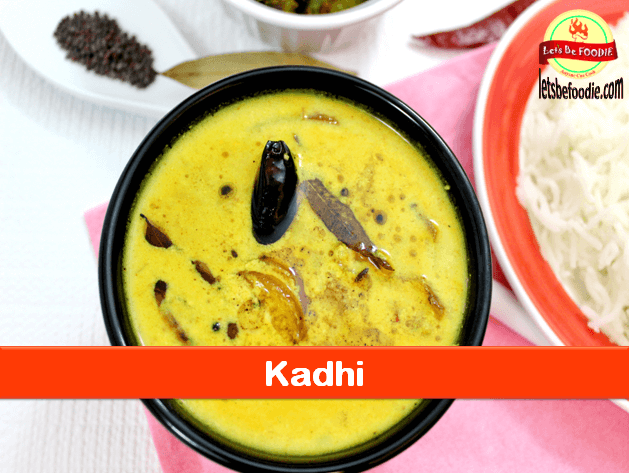 You may also like following recipes from Let's Be Foodie