Fusion Maggi Noodle Recipe
Recipe Description
Fusion noodle is delicious treat flavored with spices, sauce and vegetables. This method will rock your taste buds. For quick hunger fix, maggi noodles have always rescued me several times. It's soul satisfying when a fork full of maggi goes in your mouth. Slurp slurp. Kids love it, students can't live without it, remember that time of your hostel, late night hunger and you made your maggi. You can make this maggi noodle anytime lunch/dinner. Step by step recipe to make your maggi noodles more interesting and delicious.
Ingredients for Recipe
1 ½ small packet magi noodles
½ green bell pepper (capsicum) chopped
2 medium chopped tomatoes
½ cup frozen corn
2 tbsp chopped spring onion
¼ tsp garlic powder
2 tsp mushroom sauce
1 tsp tomato ketchup
½ tsp sriracha sauce
¼ tsp red chili powder
¼ tsp onion powder
1 tbsp soy sauce
1 tbsp olive oil
¼ tsp black pepper powder
Salt to taste, if needed
3 cups of water
Recipe Method
Step 1
In medium heated pan add olive oil. In hot oil add chopped green bell pepper and sauté for 2 minutes. Now add chopped tomatoes. Stir well, cover the lid and let this cook for 4 minutes. Until bell pepper and tomatoes turn soft.
Step 2
After 4 minutes take off the lid and you can see they have turned soft. Now add frozen corn, give it a good stir after stirring well add garlic powder. Mix and cook for additional 2 minute. Add mushroom sauce, tomato ketchup, sriracha sauce, black pepper powder, red chili powder and onion powder. Mix everything well. Add maggi masala and give it a good stir. Add maggi noodles (no need to boil) mix well. Add water and give it quick stir. Add soy sauce, stir well. Cover it and let it cook for 4-5 minutes. Garnish with spring onion. Take out in a bowl and enjoy eating hot. Slurp slurp!
---
Preparation Time: 5 minutes
Cook Time: 20 minutes
Serving: 2
---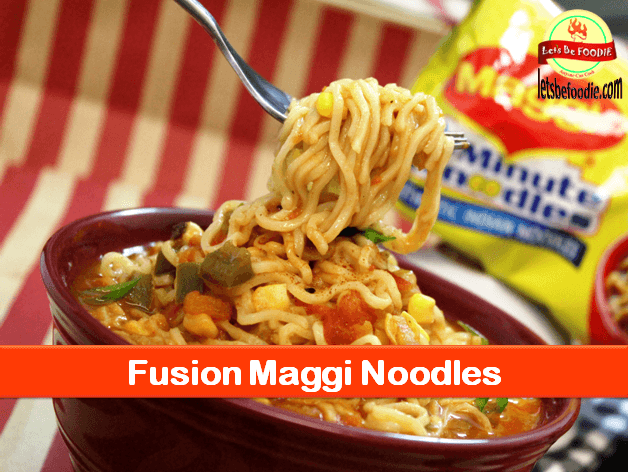 You may also like following recipes from Let's Be Foodie