Nimona Recipe – Green Peas Curry Recipe
Recipe Description
Nimona is a traditional delicacy of UP (India) and mostly cooked in winter when farm fresh peas are available in the market. This nemona recipe is very easy to make, it's made with green peas, potato, tomato and with few spices. My mom used to make this matar ki dal almost twice a week in winters. Re-created my mom's magic. This finger-licking curry is made by grinding green peas and then simmered with spices. This green pea curry is best to try when you want to make something new. Serve neemona with steamed plain rice for lunch or dinner. Go green, go healthy! Step by step nimona recipe.
Ingredients for Recipe
2 cups / 240 grams green peas
1 chopped medium potato
1 small chopped tomato
2 chopped green chilies
1 inch chopped ginger
1 bay leaf
1 tsp cumin seeds
½ tsp turmeric powder
½ tsp cumin powder
½ tsp coriander powder
1 black cardamom
1/8 tsp asafetida (hing)
½ tsp garam masala
30 grams chopped cilantro (coriander) leaves
Salt to taste
2 tbsp olive oil
1 tsp clarified butter (ghee)
2 red dry chilies (optional)
Recipe Method
Step 1
Heat wok or kadai on medium heat and add oil. In hot oil add bay leaf, lack cardamom and cumin seeds (you can also add dry chilies). Let it splutter, add green chilies and chopped ginger. Give it a good stir and add chopped potato. Cook for two minutes. Add turmeric powder and stir for 30 seconds. Now add coarse paste of green peas. For making coarse paste of green peas add just 2 – 3 tbsp of water and give few pulses. Cook for 2 -3 minutes.
Step 2
Add coriander powder, cumin powder, and garam masala. Stir for 2 minutes. Add chopped tomato and salt to taste. Give it good mix. Add 600 ml water you can adjust as per your desire. Mix well. Cover the lid and let it simmer on low-medium heat for 20 minutes. You can stir after few minutes.
Step 3
After 20 minutes, open the lid and stir. You will see potato will be soft and mushy. Turn off the heat. Add clarified butter (ghee) and garnish with chopped cilantro leaves. Nimona (pea curry) is ready to go with rice. Try making nimona the way I have made it and I'm sure you will love it.
---
Preparation Time: 15 minutes
Cook Time: 30 minutes
Serving: 3
---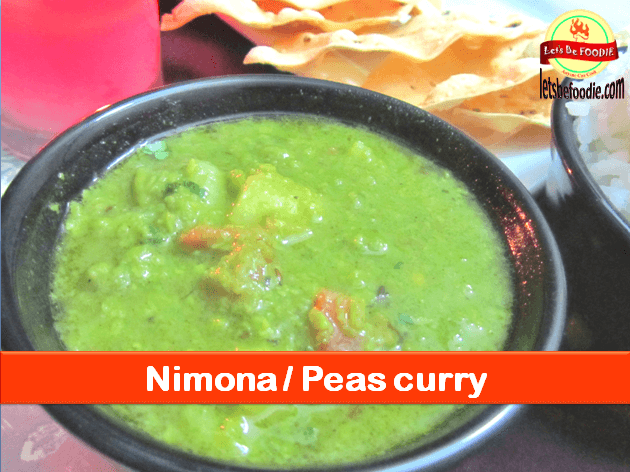 You may also like following recipes from Let's Be Foodie
Leave Comment(s) or Suggestion(s)