Lavang Lata Recipe|Indian Sweet Recipe|Easy Lavang Latika Recipe
Lavang Lata Recipe Description
Famous Indian regional sweet lavang latta which has many names like laung lata, laung latika, etc. Lavang latta cover is made of all purpose flour and stuffed with khoya, nuts. Lavang latas are deep fried and then soaked in thick sweet sugar syrup. The outer cover of lavang latta is crispy and it is soft- moist from inside. This Indian sweet is very popular in my hometown Varanasi. I have grown up eating this sweet and always craved for it. It's one of the perfect Indian dessert made on occasion like: festival, birthday party or any get together. Serve these lavang latas hot or warm just the way you like it. You can refrigerate lavang lattas for 2-3 days in air tight container.
Ingredients for Lavang Lata Recipe
1 cup / 130 grams all purpose flour
1 cup / 130 grams sugar
60 grams khoya/mava
4 crushed cardamom
5 chopped almonds
4 chopped pecans
5 chopped pistachios
4-5 saffron strands
4 chopped cashew
1 tbsp clarified butter for dough
2 tbsp clarified butter/ghee for frying
8 tbsp canola oil for frying
14 cloves
Lavang Lata Recipe Cooking Method
Step 1
Dough: In a mixing bowl add all purpose flour and add 1 tbsp clarified butter. Rub clarified butter and all purpose flour with your palms. This is the best way to mix properly. Add little water at a time and knead firm dough (do not add much water). Cover it with damp cloth or wet paper towel and keep it aside for 20 minutes.
Step 2
Sugar syrup: Heat pan on medium heat and add 1 cup water to this add 1 cup of sugar. Stir well and let it boil. For flavoring add crushed cardamom and few strands of saffron. Look for one string consistency. Turn off the heat.
Step 3
Stuffing: In a bowl add khoya/mava and 1 tbsp sugar. Now add dry fruits. Add chopped cashew, pistachios, pecans, and almonds. Mix everything well and stuffing is ready.
Step 4
Make paste of 1 tbsp all purpose flour with1 tbsp of water. Mix well and keep it aside.
Step 5
After 20 minutes knead dough for the final time. Dust working surface from all purpose flour. Give flat round shape (like peda) to entire dough and roll it. Roll slightly thicker than puri. Using a cookie cutter or round lid cut circles out of the rolled dough and keep them covered.
Step 6
Take out the cut circular dough and slightly roll it. Add stuffing in the centre and apply the paste from step 4 on the edges. Fold it from all the sides (please refer video for detailed folding technique). After folding, insert 2 cloves to seal. Prepare rest of the lavang latas in the same way and keep them covered while preparing.
Step 7
Frying: For frying these lavang latas add 2clarified butter/ ghee in a pan and 8 tbsp canola oil on low- medium heat. Gently add lavang latas one by one and fry until they turn golden brown from all the sides.
Step 8
In warm sugar syrup add fried lavang latas and coat well from all the sides. Leave lavang latas for five minutes in sugar syrup. After five minutes take them and enjoy eating this delicious sweet.
---
Lavang Lata Recipe Preparation Time:
30 minutes
Lavang Lata Recipe Cook Time:
14 minutes
Lavang Lata Serving:
7 Pieces
---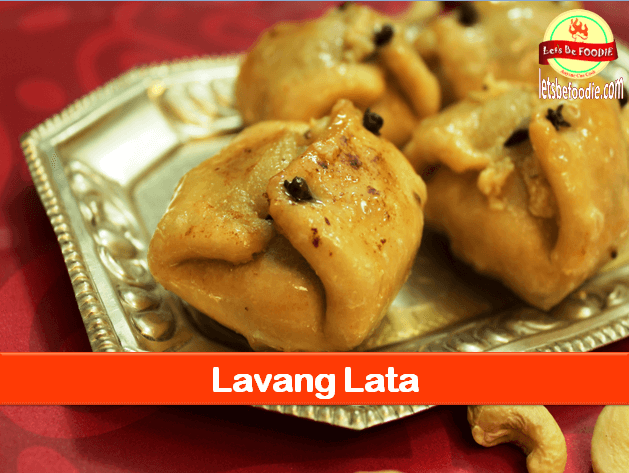 You may also like following recipes from Let's Be Foodie