Baked Chili Cheese Toast Recipe
Recipe Description
Baked chili cheese toast is very quick and delicious snack for anytime. Baked chili cheese toast is made with bread, herbs, garlicky oil and topped with jalapeno, tomato and mozzarella cheese. This easy vegetarian chili cheese toast can be made with variety of topping of your own choice. This cheese chili toast dish is perfect for quick breakfast & evening meal and best to serve when it's warm to enjoy crisp toast and melted cheese. There is nothing better than having warm cheese on toasted bread. This chilli cheese toast is baked in oven.
Ingredients for Recipe
4 bread slices
1 deseeded & chopped jalapeno
1small deseeded & chopped tomato
4 cloves garlic crushed
130 grams mozzarella cheese
1 green chili crushed
1/8 tsp red chili flakes
1/8 tsp Italian seasoning
Salt to taste
2 tbsp olive oil
¼ tsp black pepper powder
Recipe Method
Step 1
In a bowl add olive oil, crushed green chili, crushed garlic, black pepper powder and give it a good mix.
Step 2
Spread prepared mixture on all the bread slices and bake them on 350 F or 180 C for 4 minutes.
Step 3
While bread is baking. In another bowl add tomato, jalapeno, Italian seasoning, pinch of black pepper powder and ¾ cup mozzarella cheese. Mix well and keep it aside.
Step 4
Take out bread from the oven and spread prepared cheese mixture evenly. Sprinkle some more mozzarella cheese on the top and few dashes of chili flakes. Bake them for 400 F or 200 C for 4 minutes or you can also broil them on high for 3 minutes. Centre your tray in the oven for even baking.
Step 5
Take out from the oven and cut into half diagonally. Enjoy crispy, cheesy and yummy chili cheese toast.
---
Preparation Time: 6 minutes
Cook Time: 9 minutes
Serving: 4
---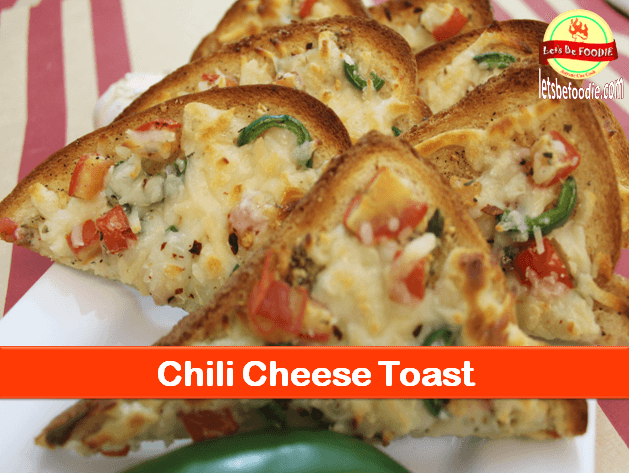 You may also like following recipes from Let's Be Foodie