Ram Ladoo Recipe-Indian Snacks
Recipe Description
Ram ladoo is a famous street food from Delhi (India). Ram ladoo is a savory tea-time snack and made with moong beans. Ram laddos are deep fried fitters and can be enjoyed as an Indian evening snack. Ram ladoos are not too spicy. The tanginess and spiciness comes from cilantro chutney and tamarind chutney. These ram ladoos are topped with grated radish and drizzled with chutney to make it delectable chaat. Ladoos are mainly sweet but ram ladoo is a salty and mildly spicy ladoo. I remember having these ram ladoos in Lajpat Nagar, Delhi. Since then I am so hooked on it and decided to make at home. Try making these mouthwatering ladoos at home and bring joy on your loved ones.
Ingredients for Recipe
1 cup /130 grams soaked split moong beans (moong dal)
2 cups grated radish (mooli)
4 tbsp cilantro (cilantro) chutney
½ tsp Kashmiri red chili powder
½ tsp turmeric powder
¼ tsp black pepper powder
20 grams finely chopped cilantro (coriander) leaves
4 tbsp tamarind date chutney/sauce
½ tsp ginger paste
½ tsp garam masala
Oil for frying
Salt to taste
3 tbsp water for batter
½ tsp chaat masala
¼ tsp baking soda (optional)
Recipe Method
Step 1
In a bowl take 1 cup of split moong beans. Rinse well under running water and soak in water for 6 hours.
Step 2
Drain moong beans, wash and grind moong beans into smooth paste. Add approx 2 tbsp of water while grinding moong beans. Do not add much water.
Step 3
In smooth & thick, fine moong paste add black pepper powder, turmeric powder, garam masala powder, kashmiri red chili powder, ginger paste, salt to taste. Add baking soda and mix batter for 3 minutes using spoon or hand. Make sure to mix batter really so that air is incorporated well in he the batter. Batter has to be light and fluffy. Moong beans batter is ready.
Step 4
Heat enough oil for deep frying ram ladoos on medium heat. Gently drop ladoo one by one and fry until ladoos turns out golden brown. Drain the excess oil in the pan. Take out on a paper towel and keep it aside.
Step 5
Assemble: Wash and grate radish into long strands. Add chopped cilantro (coriander) leaves in radish. Start assembling ram ladoos. Take few ladoos in plate. Top with some radish and cilantro leaves. Generously add cilantro chutney, date and tamarind chutney. Finish off by sprinkling chaat masala on the top. Ram ladoos are ready to serve.
---
Preparation Time: 20 minutes
Cook Time: 20 minutes
Serving: 4
---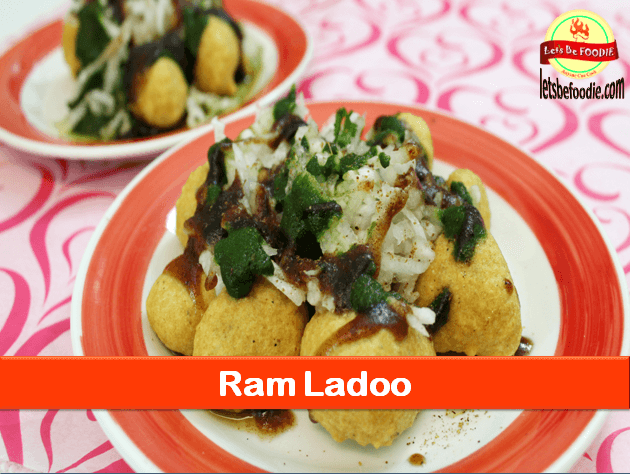 You may also like following recipes from Let's Be Foodie