Hot Momos Chutney Recipe
Recipe Description
Momos chutney or sauce that is served with momos is very hot and spicy. Momos chutney or red chili dipping sauce is easy to make at home. Momos chutney is made with whole red dry chili, ginger and garlic etc. This momos chutney is going to tickle your tongue. This hot sauce goes well with momos and evening snacks. The mouthwatering hot and flavorful chutney (sauce) is made with very few ingredients and taste same as we get on the streets of India. Try this momos chutney with steamed veg momos. Here is step by step recipe of quick and easy momos chutney.
Ingredients for Recipe
1 tsp cumin seeds
6 chopped garlic cloves
1 inch chopped ginger
6 red dried chilies
2 chopped large tomatoes
1 tsp oil
Salt to taste
Recipe Method
Step 1
Soak red dried chilies in warm water for 2 hours.
Step 2
Heat pan on medium heat and oil. In hot oil add cumin seeds, chopped garlic and ginger. Sauté for 30 seconds and add chopped tomatoes. Give it a good mix and cook for a minute. Turn off the stove and let it cool down.
Step 3
In a grinder add soaked chilies and prepared mixture from step 2. Add salt to taste and grind it into smooth paste. Momos chutney is ready in no time. Check the seasoning and you can also refrigerate this momos chutney. Serve this hot & spicy momos chutney with momos. You may also like to browse veg momos recipes.
---
Preparation Time: 4 minutes
Cook Time: 4 minutes
Serving: 4
---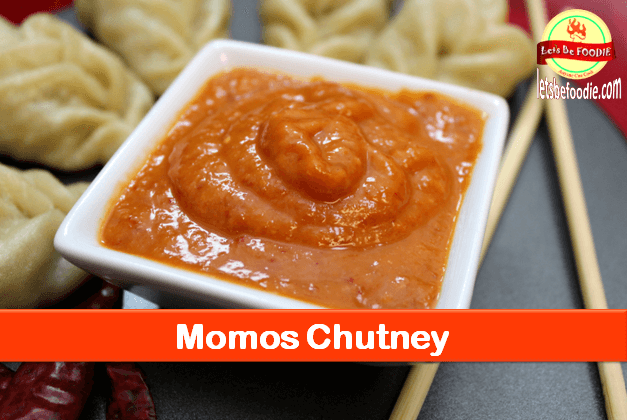 You may also like following recipes from Let's Be Foodie
Leave Comment(s) or Suggestion(s)