Healthy Potato Yogurt Salad
Recipe Description
Healthy potato yogurt salad recipe is filled with tons of flavors and at the time it is quick and easy recipe to make at home. This is a very simple recipe of potato yogurt salad which includes roasted bell pepper, finely chopped onion, celery, relish and tangy mustard sauce which enhances the flavor of salad. In this recipe I have swapped mayonnaise with yogurt which make it low calorie, low-fat potato salad and its ideal for late night/mid night snacks or can be served as a side dish. The best part of this salad is that it has no cream, no cheese, and no mayonnaise. Prepare this guilt free healthy version of your favorite potato yogurt salad.
Ingredients for Recipe
1 cup non-fat yogurt (curd)
2 medium boiled and chopped potatoes
½ tsp relish
1 small finely chopped red onion
½ cup finely chopped celery
1 tbsp finely chopped cilantro (coriander) leaves
1 tbsp chopped jalapeno pickle
½ roasted and chopped bell pepper (capsicum)
¼ tsp ground paprika
1 tsp mustard sauce
½ tsp garlic powder
Salt to taste
¼ cup water
Recipe Method
Step 1
In a bowl add non-fat yogurt whisk well and add water. Whisk again. Once this reaches to creamy consistency add chopped celery & finely chopped red onion. Whisk well so that all the ingredients are combined well. Now add mustard sauce and whisk again.
Step 2
Wrap half bell pepper with aluminum foil and seal it properly. Roast on electric stove from all the sides on medium heat. If you are using gas stove you can directly (no foil) roast bell pepper. Once it's roasted, finely chop it. Add roasted and chopped bell pepper. Add chopped jalapeno pickle and mix well.
Step 3
Add garlic powder mixture, salt to taste and mix well. Add 2 medium boiled and chopped potatoes and mix it properly.
Step 4
Add chopped cilantro leaves (you can also use parsley leaves), relish and mix well. Sprinkle ground paprika as per your taste and garnish with cilantro leaves. Healthy quick and easy potato salad it ready in no time. Serve in lunch or dinner.
---
Preparation Time: 10 minutes
Cook Time: 00 minute
Serving: 4-5
---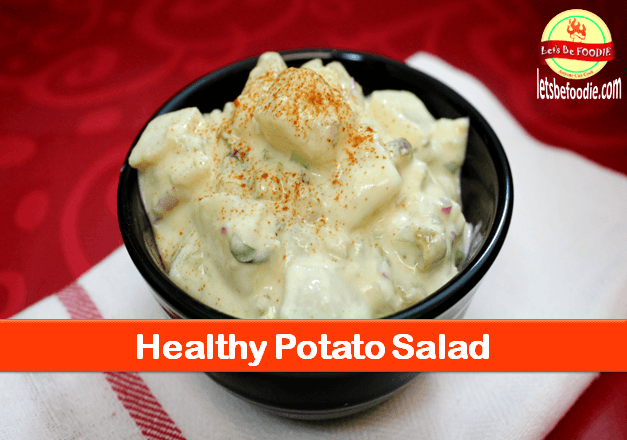 You may also like following recipes from Let's Be Foodie