Healthy Minestrone Soup Recipe|Weight Loss Soup|Low Calorie Soup
Recipe Description
Healthy minestrone soup recipe is low calorie one pot meal ideal for weight loss which is full of nutrition. Light up your dinner with this delicious soup which can be made in few minutes. Delectable and easy to prepare are the terms used to describe this healthy LOW CALORIE soup. Want to burn your crabs then here it is the perfect recipe of classic minestrone soup. The proteinaceous chickpeas, weight watching celery and the always friendly greens like cabbage, zucchini, kale etc. The inclusion of pasta is just another add on to the already palatable soup. Time to prepare for all those health conscious people, who wants to eat something filling at the same time healthy. Learn how to make healthy soup in Power Pressure Cooker with step by step instruction. You can make this soup same way using a pot. Just make sure you add boiled pasta. We all love to sip something hot with bread which keeps us warm during winter. You can serve this soup hot as appetizer before lunch/dinner.
Ingredients for Recipe
200 grams boiled chickpeas
1 cup chopped carrot
1 cup chopped celery
1 ½ cup chopped cabbage
1 big chopped yellow onion
3 medium chopped tomatoes
5 chopped big garlic cloves
1 cup chopped zucchini
Some roughly chopped kale
½ tsp black pepper powder
½ tsp cayenne pepper
2 tbsp olive oil
¼ tsp Italian seasoning
1 tbsp tomato paste (optional)
¼ cup elbow pasta
1 liter / 34 oz vegetable stock
Recipe Method
Step 1
Turn on Power Pressure Cooker. Turn on chicken mode for sautéing. In pressure cooker add olive oil. Add chopped yellow onion. Onion is high in fiber and vitamin C. Now add chopped garlic which contains anti-oxidants. Add chopped garlic that helps to prevents many diseases. Add chopped celery which is great if you are watching your weight. Add chopped carrot, it contains vitamin A which is very good for our eyes. Add chopped zucchini which is very low in calorie and easily digestible. Add chopped cabbage which is high in fiber and vitamin K. Add chopped tomatoes and stir everything well.
Step 2
Add boiled chickpeas which is filled with protein. You can also beans of your choice like pinto beans, kidney beans etc. Add tomato paste (optional). Add salt to taste, black pepper powder, cayenne pepper (red chili powder), Italian seasoning and add vegetable broth/ stock (you can also use water instead of vegetable broth). Add pasta (if are making in pot add boiled pasta) and roughly chopped kale. For greens you can also add, spinach or swiss chard. Give everything a good stir. Close the lid at lock position and make sure the pressure valve is at seal position.
Step 3
Press cancel button and turn on soup mode. After few minutes it will show 10 minutes timer. After 10 minutes, soup will be ready and Power Pressure Cooker will start beeping. Press cancel button and release the steam by turning pressure valve to open position using a tong. Wholesome soup is ready. Take out soup in a bowl and serve it hot.
---
Preparation Time: 15 minutes
Cook Time: 10 minutes
Serving: 5-6
---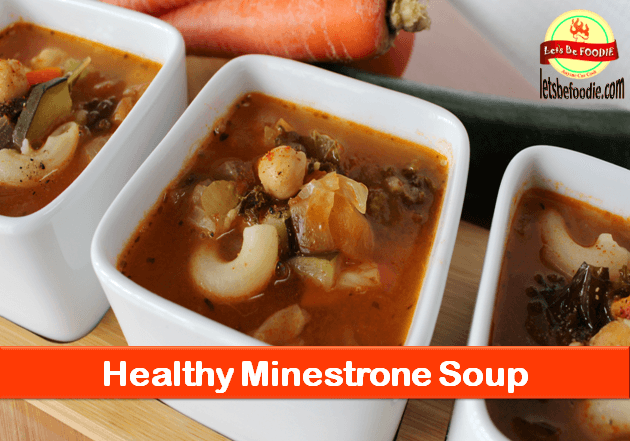 You may also like following recipes from Let's Be Foodie