Healthy Baked Spring Roll Recipe
Recipe Description
Try out this easy baked spring roll recipe which is filled with tender vegetables. These spring rolls are very light, crispy, tasty with very less oil, outer shell is crispy and delicious filling inside. It's a low calorie snack and perfect as an evening snack / starter / appetizer. If you're craving for Chinese food then you must give a try to these crispy baked spring rolls. Serve spring roll with delectable honey chili dipping sauce. These are the best and crispiest spring rolls recipe you will ever try. It tastes equally good as fried ones. Let's have look at the ingredients.
Ingredients for Recipe
8 spring roll sheets
80 grams chopped cabbage
1 medium carrot
35 grams spring onion
30 grams sprouts
2 finely chopped garlic cloves
1 tbsp soya sauce
1 tsp sesame oil
1 tsp cornstarch
1 tbsp olive oil
¾ cup thin noodles
Water
Recipe Method
Step 1
Wash and peel outer skin of carrot (discard outer skin). Cut carrot into 4 pieces and peel the carrot into thin strips. You can also grate from the grater. Chopped cabbage, spring onion and finely chop garlic.
Step 2
Heat water in a pan, add thin noodles in hot boiling water and keep noodles for 4 minutes. Drain noodles and rinse it with cold water. Set noodles aside.
Step 3
Heat pan on medium-high heat, add sesame oil, chopped garlic, carrot, cabbage (you can add vegetable of your own choice like: green beans, mushroom, tofu etc). Sauté for a minute and add spring onion. Stir for 2 minutes and make sure vegetable are tender and crunchy.
Step 4
Add soya sauce and mix well. Add noodles and mix everything. Cook for 30 seconds. Turn off the heat and transfer stuffing on a plate. Let it cool down completely. Once it cool down add sprouts and mix well.
Step 5
Make a thick paste of cornstarch and water. Keep it aside.
Step 6
Take out spring roll sheets on a plate and keep them covered with damp paper towel. Take a spring roll sheet and place it diagonally facing towards you. Apply think paste (from step 5) on the edges of the sheet. Place 2 tablespoons of stuffing on the sheet, approx 1.5 inch away from the corner which is near to you. Lift the corner near you and give a tight roll (enclosing the stuffing) and stop rolling just before you reach the midway. Now apply cornstarch paste on left and right side. Lift the right corner and fold it to left. Again, lift the left corner and bring it to right side. It will look like an open envelope. Start rolling it again till the end. At this point, you should have tightly sealed spring roll. Repeat this step for folding rest of the spring rolls. You can also refer to the video for folding technique.
Step 7
Pre-heat oven at 375F / 190C. Grease baking tray and place spring rolls. Apply olive oil all over the spring rolls. Bake them on 375F / 190C for 25 minutes. Crispy baked spring rolls are ready. Serve them with honey, chili dipping sauce. Enjoy healthy baked spring rolls.
---
Preparation Time: 15 minutes
Cook + Bake Time: 8 + 25 minutes
Serving: 2
---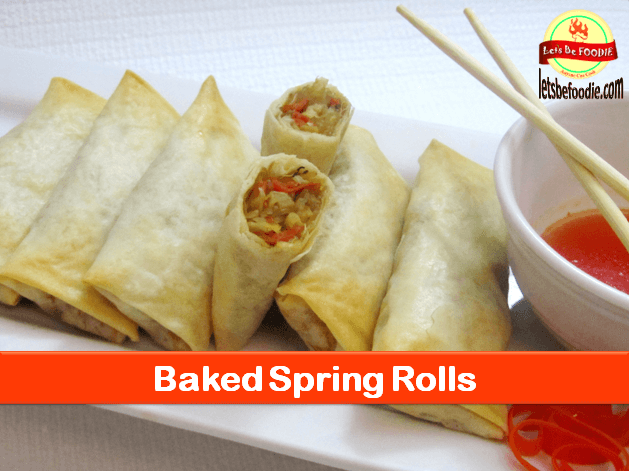 You may also like following recipes from Let's Be Foodie