Veg Cutlet Recipe-Poha Cutlet Recipe-How to make cutlet
Poha Cutlet Recipe Description
Veg Poha Cutlet Recipe: Indian snack, veg poha cutlet, is easy to prepare and healthy too. Crispy outside and soft inside is what it takes to perfect this mouth savoring dish. The blanched spinach and cottage cheese add to the nutritional value along with the veggies and also it has a nutty flavor which comes from peanuts. The main ingredient flattened rice is what makes this cutlet a completely different variant from others. This poha cutlet is perfect appetizer for any day. Serve poha cutlets hot with your favorite sauce/ketchup as an evening snack or tea time snack. Let's see what all we need for this yummy delicacy.
Ingredients for Poha Cutlet Recipe
2 cups thick flatten rice
2 medium boiled potatoes
1 medium grated carrot
80 grams paneer (Indian cottage cheese)
40 grams of cilantro (coriander) leaves
60 grams roasted peanuts
¼ cup blanched spinach
1 medium chopped chili
1 inch chopped ginger
1 tsp lemon juice
Salt to taste
½ tsp garam masala
1 tbsp chaat masala
¼ cup bread crumbs
Oil for shallow frying
Poha Cutlet Recipe Cooking Method
Step 1
Wash 2 cups of thick poha (flattened rice), transfer in a bowl and add 1 cup of water. Leave it for 15 minutes.
Step 2
In a mixing bowl, add 2 medium boiled and mashed potatoes, ¼ cup blanched spinach, add 80 grams of finely grated cottage cheese (paneer), 1 medium finely grated carrot, 1 medium green chilli chopped, 1 inch chopped ginger, 40 grams of finely chopped cilantro leaves (coriander leaves). Now add poha(flattened rice), add 60 grams of roasted peanuts (keep few of them in chucks and rest in powder), 1 tbsp chat masala, ½ tsp garam masala powder,1/4 cup of bread crumbs, salt to taste and 1 tsp lemon juice. Mix everything and make dough.
Step 3
Take a generous portion of dough and make cutlet. Prepare rest of the cutlets in the same way.
Step 4
In a medium heated pan add oil for shallow frying. Let oil get hot on medium high heat. In hot oil, add prepared cutlets and shallow fry until golden brown from both the sides. Take out in a plate and immediately sprinkle some chat masala on prepared cutlets. Serve these cutlets with favorite sauce/chutney along with tea.
---
Poha Cutlet Preparation Time:
15 minutes
Poha Cutlet Cook Time:
15 minutes
Poha Cutlet Serving:
20 cutlets
---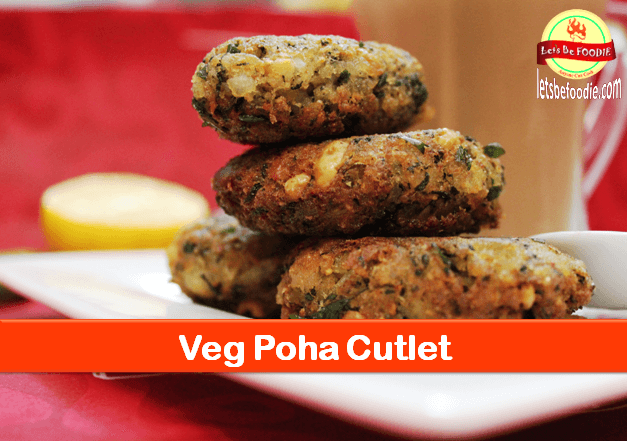 You may also like following recipes from Let's Be Foodie