Healthy Samosa Chaat Recipe
Recipe Description
Samosa chaat is mouthwatering snack and very famous on Indian streets/restaurants. This Indian style quick and easy samosa chaat is made with scrambled samosa (Indian pastry), chickpeas chole, and topped with chatpata (peppery) chutneys. Our very own healthy samosa chaat, that finds a place in everyone's tummy. Taste bhi aur health bhi. This samosa chaat is healthy and made with baked samosa which saves us from having tons of calories. It's a good tea time snack which can be made in very less time. Kids also love to relish this samosa chaat.
Ingredients for Recipe
2 cups of boiled chickpeas
6 baked samosas
1 tsp cumin seeds
½ Kashmiri red chili powder
1 tsp chaat masala
1 tbsp olive oil
½ tsp chole masala
Salt to taste
½ tsp garam masala
1 small chopped red onion
4 tbsp cilantro mint chutney
½ tsp black pepper powder
Pinch of asafetida
1 tbsp roasted cumin power
¼ cup beaten yogurt / curd
4 tbsp tamarind date chutney
½ tsp red chili powder
Water
Recipe Method
Step 1
In a medium heated pan, add olive oil or any vegetable oil. Add cumin seeds in hot oil. Let it splutter. Add pinch of asafetida. Now add boiled chickpeas (kabuli channa). Sauté well and cook for 2 minutes.
Step 2
After 2 minutes, add turmeric powder, kashimiri red chili powder. Sauté well and cook for 1 minute.
Step 3
Add chole masala and salt to taste. Mix well. Add garam masala and mix all the ingredients well.
Step 4
Add 1 ½ cup of water and crush few chickpeas (not all of them). Cover the lid and let is get cooked covered for 5 minutes.
Step 5
Chole is ready. Turn off the stove and keep chole aside.
Step 6
On a griddle or tawa heat baked samosas on medium heat. Crush samosas with masher and warm them up for 2 minutes. Samosas are ready to go on the plate.
Step 7
Let's assemble chaat. In a plate place 2 samosas, add some chole, add chopped onion, add cilantro mint chutney, 2 tbsp beaten yogurt, sprinkle some roasted cumin powder, add pinch of black pepper powder, hint of red chili powder, add 1 tbsp tamarind date chutney and sprinkle some chaat masala. Healthy and delicious samosa chaat is ready to go in your tummy!☺
---
Preparation Time: 20 minutes
Cook Time: 15 minutes
Serving: 4
---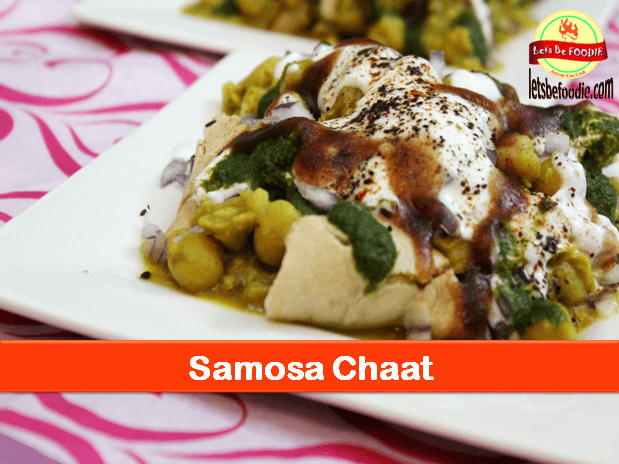 You may also like following recipes from Let's Be Foodie