How to make hash browns Recipe-Homemade hash browns
Recipe Description
How to make hash browns recipe? Homemade hash browns breakfast is classic Italian breakfast recipe for potato lovers. Try out this perfect potato recipe for making crispest hash browns which is slightly seasoned. These homemade hash browns have crisp crust and moist from inside which makes your breakfast irresistible. It is made in fast food style and very similar what we get to eat in restaurants. Hash browns are made with shredded potatoes and key to make perfect crispy hash brown are to get rid of potato moisture/starch. Here is detailed recipe on how to make crispy homemade delicious hash brown. You may also like to check out bagel hash brown sandwich recipe.
Ingredients for Recipe
2 shredded russet potatoes
2 tbsp rice flour
1 tbsp all purpose flour
2 tbsp corn flour
½ tsp paprika
½ tsp cayenne pepper
¼ tsp black pepper powder
1 tsp clarified butter (ghee)
Salt to taste
Recipe Method
Step 1
Wash and peel potatoes. I am using russet potatoes but if you don't have it you can use any other potatoes. Grate potatoes from thick grater side. In a large bowl, add chilled water and ice cubes. Put shredded potatoes in chilled water and leave it for 15 minutes.
Step 2
Squeeze water from shredded potatoes and keep it on a paper towel. Cover potatoes from another paper towel and wrap the shredded potatoes. Squeeze to release extra water and make it as dry as possible. Moisture is enemy of crispness.
Step 3
Heat pan on medium heat and add 1 tsp clarified butter or butter. Now add shredded potatoes and cook for 5 minutes and keep stirring. Par-cooking gives potatoes lasting crispness and this will speed up the process of cooking hash browns. Take out in a large bowl and let it cool down completely.
Step 4
Add corn flour, rice flour, all purpose flour, paprika, black pepper powder, cayenne pepper and salt to taste. Mix all the ingredients well.
Step 5
Transfer it on cutting board and spread it evenly with your hands (keep the thickness roughly around half inch). Cover it with cling wrap. Now with a rolling pin slightly roll over it to make its thickness even. Tap the edges inwards using light hands. Cut rectangular (or any shape) pieces out of it using a knife/cookie cutter.
Step 6
Frying: For frying these hash browns add enough oil on medium heat. In hot oil, gently add hash browns one by one and fry until they turn golden brown from all the sides.
---
Preparation Time: 15 minutes
Cook Time: 15 minutes
Serving: 2-3
---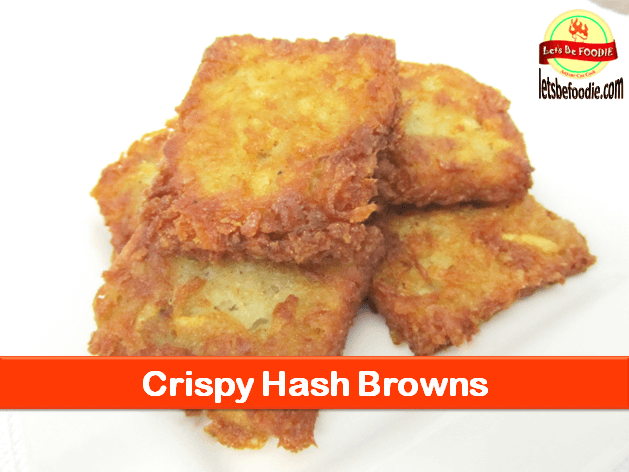 You may also like following recipes from Let's Be Foodie