Eggless Blueberry Muffins Recipe
Recipe Description
Sugar sprinkles, bursting blueberries, fluffy and moist muffins. What else one can ask for? This blueberry muffin recipe has fresh blueberries and vanilla extract which makes it so flavorful. The texture of muffins is slightly firm from outside, soft with sugar sprinkle on top, and moist from inside. Once you will eat these fresh muffins, you will never buy again from store. This eggless blueberry muffin recipe is quick, easy to make at home and can be served in breakfast or as a snack. Blueberry muffins can be taken for picnic, potlucks or kids birthday party. If you want to bake like pro and don't have much experience in baking, then this recipe is for you. I call it baking recipe for beginners. Here is step by step recipe of delicious eggless blueberry muffins.
Ingredients for Recipe
¾ all purpose flour (maida)
¾ tsp baking powder
½ tsp baking soda
80 grams blueberry
3 tbsp brown sugar
1/8 tsp salt
½ cup sweetened condense milk
60 grams unsalted butter
¼ cup milk
¾ tsp white vinegar
1 tsp sour cream
¾ tsp vanilla essence
1 ¼ pure cane sugar
Recipe Method
Step 1
Mix wet ingredients: In a bowl add unsalted butter (room temperature) whisk well until it's light and fluffy. Add sweetened condense milk (room temperature) and whisk properly. So that it is combined well with butter. Now add brown sugar and whisk again. Add milk which is at room temperature and whisk. Add sour cream, it will make muffins soft and fluffy. Whisk really well and add vanilla essence. Whisk again, add white vinegar and whisk well.
Step 2
Mix dry ingredients: In another mixing bowl sieve all purpose flour, baking powder, baking soda. Make sure baking soda and baking powder is not too old. Add salt and mix all the dry ingredients.
Step 3
Add half of the dry mixture in wet mixture. Using a spatula, with light hand fold dry ingredients and wet ingredients until they are just combine. Do not overbeat batter.
Step 4
In rest of dry ingredients add blueberries and coat blueberries well. Now add dry ingredients and coated blueberries in wet ingredients. Again fold it and make sure not to overbeat batter.
Step 5
Grease muffin tray with butter/oil and place cup liner. Fill ¾ of batter in each cup. Sprinkle pure cane sugar on the top of batter in each cup.
Step 6
Baking: Bake muffins at 350 F (175C) for 18 minutes. Centre your muffin tray for even baking. Don't open oven door before 15 minutes. Even little fluctuation in temperature can affect the even rising of muffins. After 18 minutes insert a toothpick in the centre of muffin, if it comes out clean take out from oven. Enjoy nicely puffed up and bursting blueberry muffins. Truly delicious and nothing can beat the taste of warm muffins.
---
Preparation Time: 15 minutes
Bake Time: 18 minutes
Serving: 6 muffins
---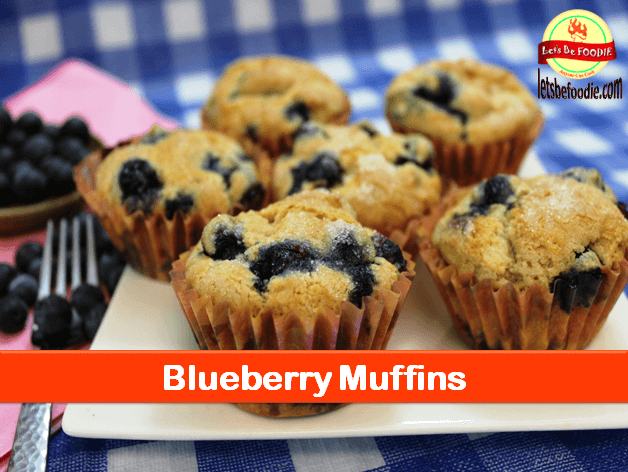 You may also like following recipes from Let's Be Foodie